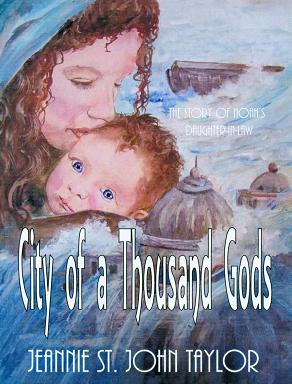 Oregon author creates biblical thriller-romance about the final days before Noah's Flood
Jeannie St. John Taylor pens a well-researched novel, City of a Thousand Gods, based on the Flood account in Genesis six, the Book of Enoch and religions down through the ages.
PORTLAND, Oregon, August 11, 2011. In City of a Thousand Gods St. John Taylor whisks you back in time to a mysterious era dogged by questions. What was life like in Noah's time? Who were the Nephilim? The giants? Did humans really live a thousand years? Did Noah and his family ever tremble and doubt? How could a good God destroy his creation? St. John Taylor answers those questions and more in this heart-stopping page-turner.
In a massive ark on top of a mountain, Noah and his family prepare for the end of the world as they know it, while in a nearby pagan city Atarah's family continues life as usual. When Atarah learns that her own father plans to sacrifice her nephew to the god Ninlel, she kidnaps the child and flees. Will she reach the ark and marry Shem before she perishes in the raging waters?
"I wrote this book out of concern over pluralism in our society," says St. John Taylor, "and because I want readers to turn to the Bible with new enthusiasm and enjoyment. I hope they see that the people populating God's word are just like us, with the same hopes and fears."
About the author: St. John Taylor, the author / illustrator of over 25 books for adults and children, is a two-time Gold Medallion Finalist. She lives in Portland, Oregon with her husband.
Go to Amazon.com or Christianbook.com to purchase an e-book or paperback, then chat with the author on her blog at https://jeanniestjohntaylor.blogspot.com/. View her other books and products at www.jeanniestjohntaylor.com. The site will lead you a blog where you can read the novel in serialized form for free.