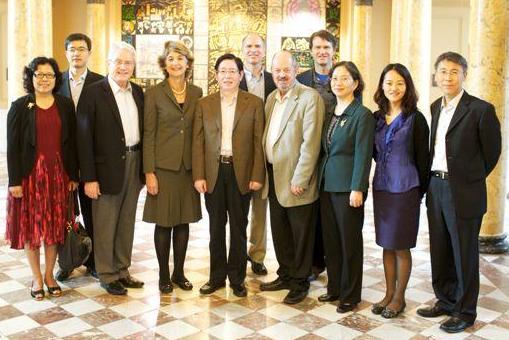 By Luis Palau,
Because of the longstanding relationships Dr. Luis Palau has cultivated in China, the Luis Palau Association was privileged to host the visiting delegation of the State Department for Religious Affairs for several days in Portland. The delegation included several key government officials, including the Minister of Religious Affairs, Wang Zuoan, and Director General for Foreign Affairs, Guo Wei.
The purpose for the delegation's visit to Portland was to learn how the Luis Palau Association has promoted harmonious relationships between government, corporate and church leaders through the Season of Service. Watch Minister Wang's concluding thoughts on what he observed in Portland
Dr. Palau was able to answer specific questions from the delegation on the balance between evangelism and good works. The Chinese leaders visited Portland City Hall and met with Portland Commissioner's Amanda Fritz and Diane McKeel as well as Beaverton Mayor Denny Doyle. They also toured Roosevelt High School to observe how churches have built long-term partnerships in public schools. The delegation concluded their time in Portland with a VIP tour of Nike World Headquarters.
The Luis Palau Association has been encouraged to continue serving the registered church in China. This December, Andrew Palau will be preaching in churches in Beijing.