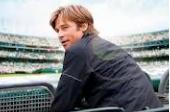 By Kevin Palau
Luis Palau Ministries
Beaverton, Oregon
This weekend, I went to see Moneyball, a film that tells the story of the 2002 Oakland Athletics baseball season under the leadership of General Manager, Billy Beane (General Manager, 1998-today). Since I've never been much of a baseball fan, I was surprised to find many lessons in this movie that resonated with me. The lessons communicated in this movie are very applicable to anyone in a leadership position.
Out of the necessity borne of being a low budget, small market team which was having its best players poached by the likes of the Boston Red Sox and New York Yankees, Billy (ably played by Brad Pitt) teamed up with Peter Brand (based on the former assistant to Billy Beane, Paul DePodesta). Brand, a 25-year-old Yale economics grad, discovered a way to find players whose value was being overlooked for a variety of reasons. By combining Brand's statistical strategy, and Beane's bold leadership, the A's finally had a chance. After losing all three of their All-Stars, and with no money to replace them, they would surprise everyone. By adopting Brand's strategy, Beane was able, with the smallest payroll in baseball, to set a record for consecutive wins (20) – just missing the ALCS.
In typical movie fashion, Billy perseveres in the face of criticism and judgment from others (the A's manager, the players themselves, and his scouts, who feel their decades of experience are being marginalized) and is justified in the end, as other teams take on his approach and it becomes part of the fabric of how baseball teams are built and managed.
8 lessons that may apply to the Church:
1. You have to believe in what you're doing! Under severe pressure early on in the season, when they're in last place, Billy asks Peter, 'how sure are you about this?' Peter replies, "100%." That certainty gave the confidence to proceed.
2. You have to have someone who shares your belief and has your back. Beane and Brand bolstered each other throughout the season.
3. Conventional wisdom is often wrong, and it's not easy to challenge it. Billy spent a great deal of time trying to persuade his scouting team that the way they'd done their job for decades was wrong. They were convinced they had almost magical powers to look at a player and size them up, rather than relying on the more statistical analysis proposed by his trusted advisor, Brand.
4. What you want to do may be threatening to the status quo. One of my favorite scenes is near the end, when due to his amazing season, Beane is offered the largest contract ever for a GM by the owner of the Red Sox, who recognizes that a new day has come.
5. Be prepared to be criticized.
6. Limitation breeds innovation. The Athletics lost their best players, and had nowhere near the budget necessary to replace that level of talent. But it was against these seemingly impossible odds, that Billy and Peter literally changed the game. They were forced to think differently.
7. Be willing to learn from others. Peter was an unlikely character. He didn't have a history in baseball, and he didn't fit the typical mold of someone in his position. But Billy saw substance, intelligence, and creativity in a very young man that many others would have overlooked.