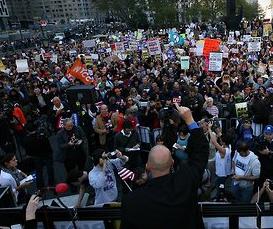 Across the nation Occupy Wall Street gets spiritual, while some churches reach out
By Oregon Christian Post,

In Oregon, two Salem churches (First Presbyterian Church and First Congregational United Church of Christ) have opened their parking lots to local Occuppy Wall Street protestors. The Presbyterian Church is trying to make room for the daily "Occupation Tango" dance that the protesters do. Protest organizers in Boston, New York, and Chicago have made sure that religion and faith communities are an accepted and welcomed part of an economic protest that began in cities nationwide a few weeks ago. In Boston, organizers established a "Sacred Space" tent where protestors can gather, sans shoes, for spiritual reflection regardless of religious affiliation. Yom Kippur services, as well as an Islamic Friday prayer service have been held at Occupy Wall Street, among other examples.
Voluntary efforts by organizers in some cities to integrate a faith element with an economic protest partly reflects an acknowledgment that faith communities and religious leaders have played unique roles in past civil rights and other social change movements. It also reflects the movement's claim to represent the "99 percent" of society, which by mathematical deduction, should reflect varying levels of support across America's diverse religious landscape. To date, however, the nationwide protest has mainly attracted clergy from the left concerned with economic and social justice for the powerless, but it has not garnered much support among evangelical Protestants, Catholics, or suburban churchgoers in general.
While participating clergy and faith groups remain unsure how and to what extent they should be involved in the protest, those interviewed expressed the desire to promote unity and love within the movement, as well as to help bring healing to a polarized country.
Click HERE and Here to read more…