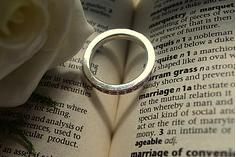 Basic Rights Oregon announced this week that there will be no initiative petition drive for the 2012 ballot but possible for the 2014 ballot. Press Release excerpts from Basic Rights Oregon and Oregon Family Council are listed below:
Basic Rights Oregon
— Press Release excerpts
"For three years, Basic Rights Oregon has led a proactive community education campaign to build public support for the freedom to marry for all caring and committed couples. We have reached out to our neighbors in communities across the state, engaged in thoughtful conversations, and shared our stories in TV ads and online.This work is opening hearts and changing minds. Every day more and more Oregonians are coming to support the freedom to marry. In Oregon, the only path to allowing same-gender couples to join in civil marriage is through the ballot. It is not a question of if we will cross this threshold, but when…
The feedback we have overwhelmingly heard is that we must allow our education work to continue. The progress we've made in increasing support for the freedom to marry will only get better in the next two years.
Today we re-commit ourselves to this effort. We're committed to opening a new dialogue with our friends, family and neighbors and, ultimately, winning the freedom to marry."
Portland, OR – Oregon Family Council received news that LGBT organization Basic Rights Oregon will not be going forward with a 2012 ballot measure campaign to overturn 2004's constitutional ballot Measure 36 which defined marriage as legally recognized only between one man and one woman.
Oregon Family Council
— Press Release excerpts
"For more than a year the Oregon Family Council has been preparing to defend Oregon's Constitutional definition of marriage. We are relieved that Basic Rights has postponed their effort to redefine marriage, but the operative word is 'postponed,'" says Oregon Family Council Communications Director and spokesperson Teresa Harke. "They've made it clear in their press release and other public statements that a battle to change marriage is coming. Therefore we will remain vigilant in our efforts to educate Oregonians about the importance of protecting marriage and the impact that redefining marriage can have on society."
Their final decision comes after months of public deliberation and in the midst of seeking input from their own supporters. Reportedly, this decision was influenced by our current economic recession.
"We understand that while Oregon Family Council and Basic Rights will never agree on this issue, it is our hope that now we can all focus on a common goal of getting Oregon families back to work" said Harke.