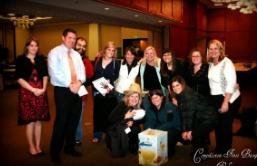 By Compassion First
Beaverton, Oregon
We invite you to experience "Take My Hand," presented by Whitaker|Ellis, Compassion First's 3rd Annual "From Numbers to Names" Banquet in Portland, Oregon. This year's event will be held on Sunday, November 6th 2011 once again at the Red Lion Hotel on the River at Jantzen Beach. We hope to fill the banquet room this year with 1000 in attendance. We are excited to see what a difference we can make for the future of the girls in Indonesia and specifically for our girls in "Ruth's House.
Experience Exhibit
We are headed in a different direction this year in an effort to connect you with incredible stories of bravery and provision through the means of an experience exhibit!
The exhibit will bring to light the many hurdles our young clients must face and the realities of sexual trafficking in Indonesia. Mostly our attention will be focused on how we can take these difficult realities and combine our efforts to bring about hope and restoration for the beautiful young girls we serve, today and in the future.
Our Special Guest
We are very excited, as well to introduce to you Tory Foster, a 16-year-old artist from North Carolina, who will be painting live at the event. Tory feels honored to be using her gift and passion of painting, to benefit young girls her age who have had so much stripped away from them. Her art is certainly a blessing and you will have an opportunity to participate in a silent auction for the paintings created at the event.
Get Involved
Please consider joining us as a Table Sponsor/Host or Guest. The cost to sponsor a table this year is $350. Contact Sarah Moshofsky for more information ([email protected]; 503.207.1323).