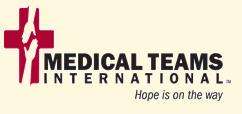 Premiere Watchdog Selects Medical Teams International For National "10 Top-Notch Charities" List
By Medical Teams International
Charity Navigator, the premier charity watchdog group in the U.S., placed Medical Teams International in its 2011 list of "10 Top-Notch Charities." The Portland-area based charity was selected from 5,000 non-profits in the watchdog group's annual ratings. Ministry Watch, which rates hundreds of Christian faith-based groups, also placed Medical Teams International on its list of "30 Shining Light Charities" for 2011.
In addition, Forbes Magazine placed Medical Teams International on its Top 200 list of charities this fall.
"We're very grateful that others value us for our stewardship, transparency and management effectiveness," says Bas Vanderzalm, president of Medical Teams International. "But what truly drives us is our mission – to demonstrate the love of Christ to people affected by disaster, conflict and poverty around the world.
"We also appreciate every contribution we receive, including a special matching gift pledge by one of our donors. This generous donor has pledged to double all contributions our Gifts of Hope Catalog, up to $200,000," Vanderzalm concludes.
Donors interested in this matching gift opportunity can go to www.medicalteams.org and help save twice as many lives. More information about the ratings from Charity Navigator and Ministry Watch as well as our 2011 accountability video report can be found at the same website.