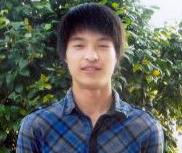 In Four Months, Ian Will No Longer Be Eligible for Adoption!
— Ian represents many children who need to be adopted.  hear his story.
Holt International
Eugene, Oregon
In April, Ian will turn 14 and become ineligible for international adoption from China. Eligible and interested families should immediately contact their agency. Holt families should contact Jessica Palmer at jess[email protected]. See eligibility requirements below.*
Ian (name changed) entered institutional care when he was 4 years old, in May of 2002. A healthy boy with a "sunny" disposition, Ian was also rather quiet upon admission and tended to stand back and observe his surroundings. At the institute, caregivers quickly enrolled him in a program to help him adjust to his new environment. Here, he got along well with his classmates, and quickly became more talkative and active in the group. The following year, he began primary school near his home at the child welfare institute. He became a diligent student who listened well, eagerly answered questions in class, and regularly completed his homework after school. His teachers all liked him a great deal.
After five years in the institute, Ian went to live with a foster family in July of 2007. Then 9, Ian developed a loving bond with this family, in whose care he continued to grow strong and healthy. He developed a taste for spicy food, honed his basketball skills, and became interested in computer games and remote control toys, as well as drawing and playing the guitar. Described as bright and extroverted, Ian has many friends. His foster mom describes him as "sensible and good."
Now 13, Ian is in junior high school. He is a serious student with grades that always put him at the head of the class.
Although close to his foster family, Ian understands that his situation is not permanent. Initially, he felt fearful of going to a new place – of feeling lonely, and missing his foster family and friends – but he has grown to understand what it means to join an adoptive family, and now embraces the idea of international adoption.
*Ian has less than four months before he turns 14, at which time he will become ineligible for adoption. Due to the short timeframe to adopt, families must already have a dossier in China or have adopted from China within the past year and have a current USCIS 1800A approval. An ideal family for Ian will have parented past his age and also have previous adoption experience.
You can help Ian or countless others, click here Holt International