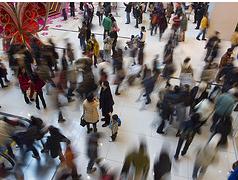 By Oregon  Christina Post,
In an act of charity that would make St. Dominic proud, The Catholic Sentinel reports that Father Antoninus Wall holds vigil six days a week at the Lloyd Center Mall. At 86 years old, he knows how to wait patiently and listen well. He is instantly recognizable as a priest in his black clerical garb. As former head of the Dominican School of Philosophy and Theology in Berkeley, Calif., and a longtime missionary, Father Wall knows his stuff. He can talk wisely about any topic, from humor to family to sickness and death. He regards his parish as his arena of evangelization, and he simply waits in the Mall. Many people, even those who have never talked to a priest before, approach him. His message has to do with the Catholic faith, and he emphasizes the love of God manifested through human lives.
Just this month two Italian Bishops called on priest to use shopping malls as vital place of ministry. Archbishop Rino Fisichella said, "Each mall is located within the territory of a specific parish and thus they are places for the new evangelization which pastors must not ignore.The lights of shopping malls can thrill people and make them believe they can run away from their problems, But this is not possible. All men and women carry a nostalgia for God in their hearts and are ever seeking after Him."
As for Oregon's Father Antoninus Wall, he will only be at the Mall until the end of January, when the Church will call him on to a new place. But he hopes his Dominican brothers will soon have the funds to rent a permanent space in the Mall where they can hold Mass, offer counseling, and attract people to seminars.
For more, go here