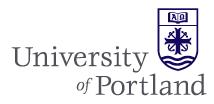 America's first black priest focus of University of Portland lecture
By University of Portland
"Augustine Tolton: From Slave to Priest" is the upcoming lecture by Harold Burke-Sivers at the University of Portland. Burke-Sivers, the University of Portland Director of Public Safety, will present his lecture at 7 p.m. Tuesday, Feb. 7 in the Pilot House Bookstore on campus, 5000 N. Willamette Blvd. The lecture series is free and open to the public and is sponsored by the University's Garaventa Center.
Burke-Sivers' lecture will focus on Fr. Augustine Tolton, a man born to slavery who became the first American black priest. Burke-Sivers is a committee member for the cause for canonization of Tolton as well as the founder of Aurem Cordis, an apostolate dedicated to promote the truth and beauty of the gospel.
For more information, please contact Jamie Powell at [email protected] or 503-943-7702.