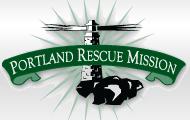 By Portland Rescue Mission 
Portland Rescue Mission recently was awarded a four-star rating by Charity Navigator. This highest possible rating reflects the Mission's ongoing commitment to financial accountability and transparency.
"We've made great strides in recent years in improving our ministry effectiveness," says Executive Director Eric Bauer. "The needs of homeless men, women and children are as great as ever. With the public's continued support, we'll provide even more meals, shelter and recovery care to restore the lives of hurting people."
Charity Navigator provides in-depth reports on thousands of non-profit organizations across the country. The independent ratings can be useful for donors determining a non-profit's trustworthiness and financial effectiveness. See the Mission's Charity Navigator profile at www.charitynavigator.org
Portland Rescue Mission is the city's largest provider of emergency shelter and is open 24 hours/day with safe, clean restrooms for men and women, mail service, clothing, blankets and hygiene items, and referral services. It also offers a free residential addiction recovery program, including counseling, continuing education and job training.
For more information, visit www.PortlandRescueMission.org.