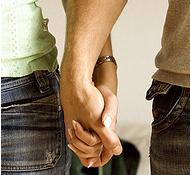 'Month of Love' is Peak Time for True Love Waits Ceremonies
By True Love Waits

Traditionally, February has been considered the "month of love." The week of Valentine's Day in particular is a time when people not only send cards and gifts to loved ones, but also when families and churches give special attention to the meaning of true love and the benefits of saving sex for marriage.
Many churches hold annual True Love Waits ceremonies, where the entire congregation witnesses young people's commitments to remain abstinent until their wedding day, and then provides encouragement and support to them in the months and years ahead. Tokens, such as a True Love Waits ring or necklace, offer a tangible reminder of the commitment and add to the power of the ceremony.
In the U.S. alone, approximately 3 million youth have signed True Love Waits commitment cards at LifeWay events, pledging sexual purity until their wedding day.
Another 1.1 million commitments have been documented in Africa, and hundreds of thousands of commitment cards from youth throughout the world have been displayed at several events, including the 2004 Olympics in Athens.
"True Love Waits transition from a sex-education concept sketched out on a napkin in 1992 to an international movement has been nothing short of remarkable," said True Love Waits spokeswoman Dawn Cornelius. "Throughout the world, scores of young people continue to take a counter-cultural stand and embrace biblical purity."
As True Love Waits approaches its 20-year mark in 2013, LifeWay continues to provide themes and direction for churches and families to help students live their lives in purity, as well as new resources to assist parents with their role as spiritual leaders for their children in the area of biblical purity.
For this year's Valentine's Day, True Love Waits provided the following ideas for churches and families:
Plan a special study. This idea can take many different forms. Some churches may want to use their Sunday school or small group time during February to share a series of lessons on God's plan for sexuality. Other churches might choose to hold a True Love Waits-focused Disciple Now (DNOW) weekend. Whatever the form, the combination of fun events and meaningful study can combine to have a powerful impact.
But churches don't have to focus on only the kids. This would be a great time to bring parents together for a short study as well. The Path of Purity: A Family Guide includes a six-session leader guide online to facilitate discussion about purity in the family. For a shorter study, Pure Parenting gives parents some practical help for creating a culture of purity in their homes over the course of four weeks.
Plan a special event. A ceremony makes a huge impression on the life of a teenager. Planning a special event — such as a father-daughter or mother-son dinner — can help reinforce the message of purity and give parents some footholds for continuing the conversation later.
Plan a sermon (or a series of sermons) on purity. Messages that come from the pulpit tend to carry a sense of importance and priority for a church's life.
"The message of abstinence is too vital to ignore,' Cornelius said. "We encourage churches to take advantage of the opportunities February provides, and build on those opportunities throughout the year."
For more information, visit www.truelovewaits.com. To access the True Love Waits blog, go to blogs.lifeway.com/blog/true_love_waits.