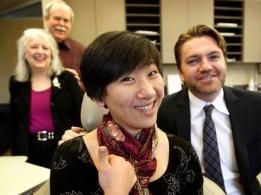 Holt Employee Testiifes for Proposed Legislation on Cleft Lip and Palate Surgeries
by Ashli Keyser
Holt International
An adoptive father and longtime Holt employee recently traveled to Oregon's capital city to testify on behalf of a bill that would increase insurance coverage for cleft lip and palate surgeries in Oregon. His story can be found on the front page of the Register Guard.
Dean Hale, Holt's director of services for India, and his wife, Cindy, adopted their daughter, Lydia, from Korea in 1993. Born with a cleft palate, Lydia required many intensive surgeries after coming home to Eugene – surgeries that often involved orthodontic work and weren't covered by insurance.
In January, Dean learned of House Bill 4128 – a proposed bill that would require health insurance policies to cover both reconstructive surgery and orthodontic treatment for individuals with cleft palate or cleft lip – a necessary combination of treatments says a majority of dentists and orthodontists. "Cleft lip and palate surgeries are much more effective and much less likely to fail when they are combined with orthodontic treatment, "says Dr. Judah Garfinkle, a Portland-based orthodontist.
Not only is orthodontic procedures a necessary step in craniofacial reconstruction, it's also one that can greatly increase the psychological well-being of patients says Lydia Hale. "People who have had successful treatment are more confident and, maybe, less introverted," says Lydia. "It's really benefited them."
Like Bertha Holt when she urged Congress to pass a special law allowing her and her husband, Harry, to bring home eight Korean-war orphans, Holt and its devoted employees continue to advocate for the rights and well-being of children, both overseas and here in the United States.
"Whatever happens to House Bill 4128 will be too late to benefit my family," said Dean during his testimony. "I have no self interest in this, but this bill will be a godsend to many Oregon families."
House Bill 4128 was signed into law by Gov. John Kitzhaber earlier this month.
Click here to read the full story in the Register Guard