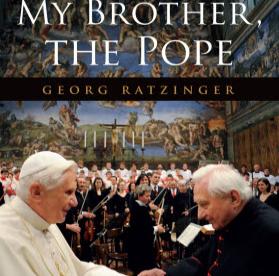 Ignatius Press
Brotherly love is not uncommon, but the over-80-year-old bond between Monsignor Georg Ratzinger and his brother Joseph – Pope Benedict XVI – is of one of the rarest and most fascinating fraternal relationships ever written about.
In My Brother the Pope, available March 1 in English from Ignatius Press, Msgr. Ratzinger provides German writer Michael Hesemann with the only living witness to the early days and formation of brothers who were ordained as Catholic priests together on the same day in 1951 – after surviving Nazi Germany and World War II.
Msgr. Ratzinger and Pope Benedict XVI – or Georg and Joseph in their early days – mere sons of an ordinary hard-working policeman and faithful Catholic who married a devout woman he met through taking out a print advertisement, are seen as never before.
"(Msgr. Ratzinger) draws the picture of a family that grew so strong through the practice of its deep faith that it could withstand all the storms of that time, even those of the godless Nazi regime," Hesemann writes in the book's introduction.
Noted author and Papal biographer George Weigel calls My Brother the Pope "an evocative portrait that sheds new light on the experiences that shaped some of the thinking of Pope Benedict XVI."
Hesemann, whose idea it was to acquire Monsignor Ratzinger's detailed memoirs about his brother and their unique bond, says of My Brother the Pope, "The Ratzinger family secret is now available to the entire world."
Msgr. Ratzinger tells Hesemann of the brothers' early lives, when they were forced to become part of the Hitler Youth and drafted into the army of the Third Reich. My Brother the Pope also provides an intimate look into the Ratzinger family, and the tight knit and devotional Catholic home life that produced not one – but two vocations to priesthood.
"Often on Sundays we attended Mass twice, once as servers and another time with our family, for instance, the early Mass at 6:00 and the main parish Mass at 8:00 or 8:30," Msgr. Ratzinger tells Hesemann. "Then, in the afternoon at 2:00, there were devotions, on feast days a Vespers service. This piety, which was lived and put into practice, defined our whole life, even though today I celebrate only one Mass and refrain from going to a second one. Nevertheless, it was imparted to us as children in the cradle, so to speak, and we remained faithful to it throughout our lives. I am convinced that the lack of this traditional piety in many families is also a reason why there are too few priestly vocations today."
In My Brother the Pope, Monsignor Ratzinger not only shares – for the first time – a unique depiction of his brother with stories never heard before, but readers will encounter the man, the best friend, who continues to serve as a confidante and guide to the Holy Father to this day in the midst of his Papacy.
"From the beginning of my life," Pope Benedict said, "my brother has always been for me not only a companion, but a trustworthy guide. For me he has been a point of orientation and of reference with the clarity and determination of his decisions. He has always shown me the path to take, even in difficult situations."
The Ratzinger brothers celebrated the 60th anniversary of their ordinations to the priesthood last year, and the book includes many pages of black and white and color photos that illustrate the lifelong, lasting friendship the Pope and his brother have enjoyed. They continue to vacation together, and talk to each other daily.
"Not just a fascinating book but a unique one, as well," said Fr. Benedict Groeschel, of My Brother the Pope. "We are granted an intimate look at the life of one beloved brother through the eyes of another."