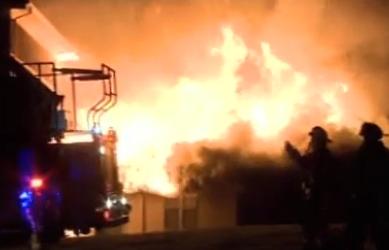 Two teens held in Tualatin church arson believed to have master key
Oregon Faith News Note:
Two 13-year old boys from Tualatin have been arrested on arson charges this week for stealing and torching of the Living Savior Lutheran Church in Tualatin. KGW reports that authorities believe that the suspects had a master key. The key could have come from groups that used the church such as the Boy Scouts, Red Cross and Alcoholics Anonymous. The boys have been sent to the local juvenile detention center. The link to the suspects came from a concerned citizen. The fire lasted for a long time as it drove back firefighter sin many occasions and involved more than 60 firemen. .  
See more below of the fire from KGW-News video .
.