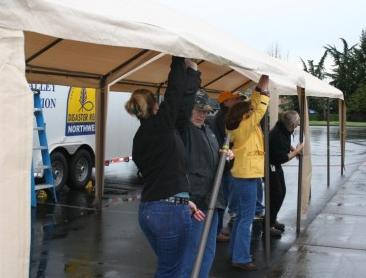 By Sheila Allen
NW Baptist Convention
VANCOUVER, Wash. — A swarm of gold t-shirts designating disaster relief workers was on full display throughout the Northwest Baptist Convention Center for an annual roundtable. The event helps train new volunteers and upgrades skills for existing volunteers in specialized fields. Instructors from five states outside the Northwest were on hand to teach courses as mud-out units, assessment, logistics, water purification, forklift operation and public information. Over 25 percent of the 125 people in attendance were first-time volunteers on hand for initial introduction to the Southern Baptist Disaster Relief program, a massive network of volunteers from around the United States.
Volunteers typically serve in locations close to their own region, but when major disasters strike, trained workers can be dispatched to other parts of the United States and abroad. New classes held at the recent roundtable included first aid, childcare, church, community and family preparation and incident command systems. Training for lead cooks was also offered.
"It is so good to get people trained and prepared so they are ready to respond when, not if, a disaster happens in our area," said Georganna Megenity, who serves on the leadership team who sponsored the roundtable. "After folks receive basic training in food safety and equipment, they can branch out and special in certain other areas. In January we had a chainsaw unit help in the Pierce County, Wash., area to clean up five properties that were damaged in storms and this included a Salvation Army camp."