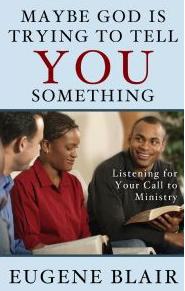 Pastor Encourages People to Say No to Ministry
By WinePress Publishing,
ENUMCLAW, Wash.– The Rev. Dr. Eugene Blair is concerned about people who end up in full-time Christian ministry only to discover that they're in the wrong vocation. After their long, expensive road to seminary, ordination, and consecration, these ministers are miserable — not to mention the plight of those under their ministry.
"Many of these pastors have wound up in ministry for all the wrong reasons," says Dr. Blair. "I think they simply didn't have the means to ask the right questions or reflect in meaningful ways about their call."
Dr. Blair has held a number of ministry leadership positions, including missionary service in Kenya, East Africa. Currently he is the Flint District Superintendent of the United Methodist Church's Detroit Conference. He is also author or contributing author of several books. He has written "Maybe God Is Trying to Tell You Something: Listening for Your Call to Ministry" to help people think through their decisions sooner, rather than later. He wants them be certain that they have heard God's voice, and he helps readers take inventory of their gifts, skills, and the stamina required to be pastors. Then, if they determine they have not been called, Dr. Blair encourages them to pursue different vocations with peace and confidence.
"It's important for people to know that if they haven't received a genuine calling, it's all right to say no," he states. "In fact, because of the importance of discerning the voice of God, there is just as much rejoicing in heaven when someone says no as when they say yes."
Dr. Blair emphasizes earnest prayer and the input of others in discerning the true call of God upon one's life for full-time Christian service. A study guide at the end of each chapter moves readers through a process of prayer and reflection. Space for personal journaling and recording prayer concerns is also provided.
For more information, to request a review copy, or to schedule an interview, please contact Robyn Williams by phone at 360-802-9758, by email at [email protected], or by fax at 360-802-9992. To purchase a copy of this book visit www.winepressbooks.com or call 877-421-7323.