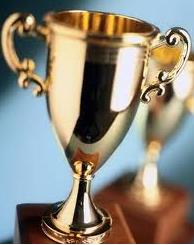 Below are two announcements of local Oregon schools winning top honors.
Oregon Episcopal wins Battle of the Books
The fifth annual Oregon Battle of the Books was held April 14 at Chemetka Community College; Oregon Episcopal School took home first prize.   Though Jonathan Swift originated the term in the eighteenth century, nowadays a battle of the books has more to do with TV game shows than with satire. To compete, students in elementary and middle school grades must read sixteen books, which are chosen pre-competition. High schoolers only have to read twelve books. The children then form into five-person teams and compete against each other in a quiz-show format. For more, read here.
George Fox speech and debate team excels at national, regional competitions
by George Fox University
Squad bests UCLA, Stanford and other top schools at U.S. Universities National Debate Tournament
George Fox University's speech team followed up its success at the regional level by making a strong showing at the United States Universities National Debate Tournament, contested on the campus on Willamette University in Salem, Ore., April 13-15.
George Fox sent 10 debaters to the event and competed against nearly 200 teams representing established debate programs across the world, including Yale, Cornell, UCLA, Stanford, University of London and others. In the end, George Fox finished in the middle of the field in the competition – a noteworthy accomplishment for a relatively small team that has only competed in British Parliamentary debate for three years.
Along the way, George Fox bested debate teams from UCLA, Stanford, Cornell, University of Southern California, The United States Air Force Academy, and University of Rochester, among others.
The showing capped a season in which George Fox earned a number of team and individual honors at regional competitions throughout the Northwest. The team, coached by English professor Abigail Rine, was recognized as a "Bronze Medal Program" in the Northwest Forensics Conference (NFC), a region encompassing Oregon, Washington, Idaho, Montana, Northern California and Alaska. George Fox was also recognized as a "Silver Medal Quality Program" in the Northwest, an award that compares the number of awards won with the size of the team.
Individually, Stephen Kenyon and Brice Ezell were named among the top 20 debaters in our region, each earning an honorable mention for the "Coaches Commemorative Award," which recognizes outstanding individual debaters in the NFC each year.
Aside from these end-of-the-year recognitions, George Fox also brought home awards from each of the four regional tournaments it attended. In January, at a tournament hosted by Pacific University, freshmen debaters Jenny Newman and Landon Isabell earned third place while teammates Josiah Hotovec and Micah Hotovec placed fifth. Isabell and Josiah Hotovec were also recognized as "Top Speakers," and Mary Lane took the gold medal in Dramatic Interpretation. Overall, George Fox finished in second place at Pacific.
At a Lower Columbia tournament in November, George Fox brought home 10 awards total: Ezell and Kenyon took the silver medal in debate and earned the first- and third-place "Top Speaker" awards, respectively; Lane earned a gold medal in Dramatic Interpretation; and Pilar Beier, Larkin Madden, Traci Sirotiak and Karina Ramirez brought home six additional speaking awards between them.
Finally, at a Lewis & Clark tournament in October, George Fox earned the bronze medal in debate and followed that with a gold medal debate championship at a Linfield tournament in November. At Linfield, Ezell and Kenyon took first place in British Parliamentary debate, and Lane was tournament champion in the Dramatic Interpretation speech event. George Fox ultimately won the Bronze Medal Sweepstakes Award at Linfield.
George Fox University is ranked by Forbes and Kiplinger's among the top Christian colleges in the country and is a Christian university classified by U.S. News & World Report as a first tier regional university and a "Best Value" school. More than 3,500 students attend classes on the university's campus in Newberg, Ore., and at teaching centers in Portland, Salem, and Redmond, Ore., and Boise, Idaho. George Fox offers bachelor's degrees in more than 40 majors, degree-completion programs for working adults, five seminary degrees, and 11 master's and doctoral degrees.