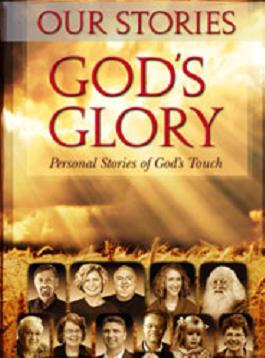 From the book "Our Stories, God's Glory"
A collection of real life inspiration stories from the NW
How about your story?
Be a part of 1,000 Oregonians sharing their faith story here.
Elsie Heuerman
Vancouver, Washington
"Mom," my eldest daughter said as she was leaving for middle school, "I don't have time to pack for the retreat. Mrs. Osgood is picking me up at four o'clock. The list is on my bed. Will you pack my bag?"
Even though I had more than I could do that day, I said I would.
After the older girls were off to school and the two little ones cared for, I took time to look at the list.
Oh, NO. The list of clothing items included a dress for a formal dinner.
What was I going to do? I could probably sew something, but I could never get it finished in one day.
At this time, I was in the middle of a divorce. I was a working mom of five daughters from the ages of three to twelve years old, and I was broke. What could I possibly do?
I started ironing, dampening the dresses with my tears and telling God just how bad things were turning out.
Just then a car pulled into my driveway and "Emma" got out. I had hired her as a baby sitter a couple of years ago, but my kids couldn't stand her and she didn't like me, so she had quit in a huff.
Emma was an older woman who always set out on a mission to "get this family organized."
It turned out that Emma had been hired to organize closets for a wealthy family and now she had a box of clothes they were giving away. She asked me if I wanted the assortment of clothing. I didn't want to hurt her feelings, so I said yes.
When she left, I opened the box, feeling defeated.
To my amazement, on top of the pile of blouses, skirts, and tee-shirts, lay a formal gown carefully wrapped in white tissue paper. I realized it was the right size for my daughter and knew it would fit her perfectly!
God had heard my cry for help.
I thought about how God had helped us various times in the past, but now I knew that HE was the husband and father we could always count on.
Matthew 6:28-30 says that we are not to worry about what we will wear because God knows what we need. Even King Solomon in all his glory was not adorned as beautifully as the lilies of the field.
Now, God had graciously clothed my daughter in the most beautiful gown I had ever seen. Praise HIM!
"Now to Him who is able to do exceedingly abundantly above all that we ask or think, according to the power that works in us, to Him be glory in the church by Christ Jesus to all generations, forever and ever. Amen." Ephesians 3:20-21 NKJV
Elsie Heuerman
Vancouver, Washington