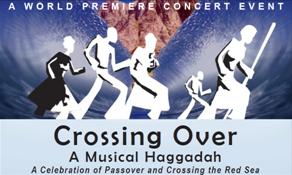 Oregon Area Jewish Committee Presents A World Premiere Concert
– Crossing Over: A Musical Haggadah –
Music by Michael Allen Harrison, Book and Lyrics by Michael Allen Harrison and Alan Berg
Thousands of versions of Haggadah books exist with their sole purpose to retell the story of Exodus, but never before has there been A Musical Haggadah. The world premiere concert, Crossing Over: A Musical Haggadah, features professional soloists, a children's choir, an orchestra, and art by Leonard Baskin.
Michael Allen Harrison says, "Inspired by my father's dream for me to make a significant contribution to the Jewish Community and all communities of faith, I consider this to be one of my greatest achievements as a composer. This musical interpretation of the exodus from Egypt and the story of redemption and freedom will be a deep meaningful experience as we awaken our spirits this spring."
Rabbi Berg adds, "If you really want to know what Crossing Over is about, musically, spiritually and communally, you will have to be there. There has never been anything quite like its combination of music and Passover. Remember that crossing through the Red Sea is the shared Jewish miracle. Through this concert event we strive to give that to people in a way they've never experienced."
"For Crossing Over, Michael has composed music of jaw dropping power. Not too long ago, we were looking at the end of the Haggadah and were creating our first draft of how that would look in Crossing Over. We went musically from Elijah to Next Year in Jerusalem. I left our meeting feeling, perhaps for the first time in this way, like something really happened to me and for me with God's miracle of the Red Sea. We're hoping that those who attend these two performances will have that feeling as well. Isn't that the purpose of the Haggadah?"
Event Details:
When: Thursday, April 12 at 7:30 PM and Sunday, April 15 at 2:00 PM
Location: Mittleman Jewish Community Center, 6651 SW Capitol Hwy, Portland, OR 97219
Admission: General Admission $36 Youth/Student $15 with festival seating only
Patron tickets $100 Includes preferred reserved seating and "Crossing Over" CD
RSVP: Reservations: www.oajconline.org, [email protected], 503-295-6761
Sponsorship and Program Ads: 503-295-6761
Crossing Over: A Musical Haggadah, a benefit world premiere production for Oregon Area Jewish Committee
About Michael Allen Harrison: Known for piano solo performances and recordings, upbeat sound with his band, work with inspiring vocalist Julianne Johnson, and skills producing and creating music for ballet, theater and film. He has been honored with a star on the Walk of Fame at the Portland Performing Arts Center for his artistic and community contributions. Michael's unique brand of music ranges from movie scores to passionate arrangements for piano, orchestra, ballet, jazz, fusion, Smooth Jazz, Pop, New Age, and Adult Contemporary and has recorded over 50 albums. Michael is the founder of The Snowman Foundation, supporting and promoting music and education among young people.
About Rabbi Alan Berg: Spiritual leader of Beit Haverim in Lake Oswego and served congregations in Massachusetts and California, and at Williams College. He was a member of the creative team for the Emmy Nominated, Chanukah at Grover's Corner. Rabbi Berg is Chair of the Advisory Board of The Marjorie and Woody Guthrie Center in Great Barrington, Massachusetts. He has published numerous articles on religion, music and literature, including for Willamette Week's, Fresh Weekly.
About Oregon Area Jewish Committee: A presence in our community for over 30 years, building bridges and coalitions between the Jewish community in the Portland region and various religious and ethnic groups. OAJC works to protect the civil and religious rights of all; insure Israel's security; advance efforts to protect human rights and human dignity; combat anti-Semitism; reduce intergroup tensions; promote Jewish values in discussions of public policy; and enrich the quality of Jewish life.