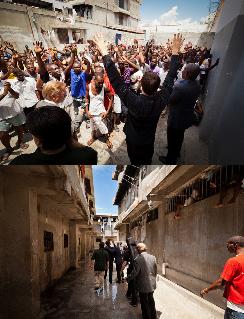 Taking hope to a prison in Haiti 
By Guest Submission,
On March 31st, the Luis Palau Association (based in Beaverton)  joined with local churches and sponsor, Haiti Broilers to host an evangelistic outreach in Port-au-Prince. Music and freestyle motocross demonstrations delighted Haitians in the record crowd of 35,000.
Andrew Palau's offered a message of hope through his own testimony, "For this to come about in the current circumstances is nothing short of a long list of miracles." Andrew and team members also visited Port-au-Prince's largest prison. Festival Director Randy Burtis shared a glimpse into the prison outreach:
"The first stop was a concrete plaza surrounded by cells. As Dave Lubben led a worship song in Creole, the prisoners joined in. Andrew shared that who the Son sets free is free indeed, and prayed a salvation prayer with those who responded. The doors opened and the square filled with prisoners lining up to receive the hygiene kits we brought.
"Then guards led us through a maze of walkways that wound deep into the heart of the prison to a larger courtyard. A guard let us in and padlocked the gate behind us. We felt a little intimidated as 300 prisoners filled the space between us and the exits. It took a few minutes for guards to bring order as men jostled for position to get the hygiene kits.
Then a strange thing happened. The most unruly group we had faced that day transformed into a choir as they sang in Creole with Lubben. When he finished, they burst into applause."
Andrew shared the Gospel with about 440 inmates that day. Burtis stated, "I do know that some men still behind the bars are now free."
— Learn more about the Luis Palau Association .