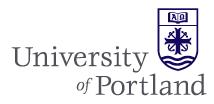 University of Portland's School of Nursing participates in poverty simulation
University of Portland
Independently Governed Catholic University

Nursing students from the University of Portland recently gathered to discover the harsh reality of poverty. Through an intensive one-day program, 146 students participated in a poverty simulation that was designed to the stark realities of poverty as well as to promote discussion among the nursing students.
"The simulation was a real effective learning tool for the nursing students," senior and student coordinator Allison Ramsay said. "The simulation parallels what happens in real life and we were able to get a taste of what people are going through."
The students were provided information packets, which described their scenario and the person they were portraying. While some students played individuals and families who were facing poverty, others portrayed institutions, such as banks, schools, and social services agencies.
"I played the banker during the scenarios and I was instructed to only cash three checks per week," Ramsay said. "It was very hard portraying the banker because I had to deny so many people who needed help."
Afterwards, students convened to discuss their experiences during the simulation.
The event was hosted by the University of Portland Student Nurses Association (UPSNA) and the Moreau Center for Service and Leadership.
For more information, please contact Diane Vines of the School of Nursing at [email protected]