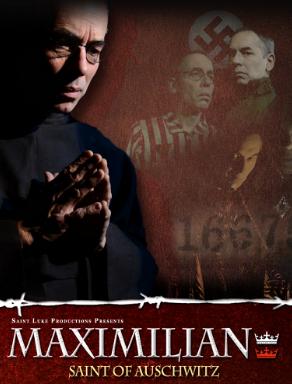 Fight for religious freedom with stage power?
By Saint Luke Productions
Battleground Washington
On April 12, 2012 the U. S. Catholic Bishops called on all dioceses and parishes to sponsor "special events that would constitute a great national campaign of teaching and witness for religious liberty."
Here's a perfect answer to their call to action:
Maximilian: Saint of Auschwitz, performed live by actor Leonardo Defilippis!
This powerful one-man production is touring North America, and performance dates are still available. Maximilian: Saint of Auschwitz, performed by Leonardo Defilippis of St. Luke Productions, holds a powerfully relevant message for our culture at a time when religious freedom and values are under attack.
The drama poignantly illustrates the life of Father Maximilian Kolbe, whose courage in the face of attacks against his Catholic faith led to his imprisonment in the Auschwitz concentration camp. He was forced into slave labor, tortured and finally came forward to take the place of a married man, who was condemned to death by starvation. Witness Fr. Maximilian as he boldly confronts the Nazi regime and asks, "What if they kill us? That would be free passage to Heaven….In short, we are invincible!"
St. Maximilian holds the key for us in our present day – Mary, the Immaculate Mother of God. It is important that we turn to her now, for our country is consecrated to the Immaculate Conception, and it is Our Lady who will come to the defense of the family and the child in the womb, whose existences are gravely threatened with the current healthcare mandate.
Answer the bishops' call. Encounter St. Maximilian's example of heroic courage and conviction, defending religious freedom by the sacrifice of his very life. Schedule a performance today.
Watch a short video clip and learn more about Maximilian – visit www.StMaxDrama.com.