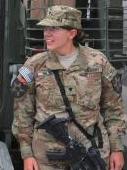 Oregon Medic Heidi Olson, a 2010 George Fox University graduate, injured by IED in Afghanistan
By George Fox University
Heidi Olson, a 2010 George Fox University graduate from Springfield, Ore., was one of three U.S. Army medics seriously injured May 8 in an IED explosion in Kandahar, Afghanistan. Olson has been flown back to the United States for treatment of burns and other injuries. The blast near Forward Operating Base Pasab occurred when one of the other medics stepped on the explosive device after assisting an injured soldier from an earlier IED explosion. One medic is now a double amputee and the other suffered hip and laceration injuries.
Spc. Olson, assigned to 5th Battalion, 20th Infantry Regiment, is to be flown today (Friday, May 25) to San Antonio Military Medical Center in Texas, ironically where she received some of her training to be a medic. Olson received damage to her left eye, second-degree burns to about 25 percent of her face, and minor wounds from shrapnel that peppered her left side and arm. She was flown from Kandahar Airfield to Germany, then on May 14 to Joint Base Lewis-McChord, Tacoma, Wash., her home base.
Olson, 23, said she is looking forward to being reunited with the other injured medics and with friends she gained there earlier while spending two months in emergency room training at the Texas medical center.
Olson said the trio caught in the explosion was on a routine 7 a.m. dismounted patrol when an IED went off, severely injuring a soldier ahead of them. They rushed forward and assisted medically as a helicopter came to take him out. As it was lifting off the second IED was triggered, hitting Olson and the others.
"I knew I was hurt," Olson said. But she said her first instinct was to check on the others. "As a medic, you look at others, make sure they are OK; you look after them and then you take care of yourself." Olson says she checked her feet, then legs, arms and hands. All were still there. But when it came time for her left eye, she said she asked her fellow medic if it was still there. She was assured it was. She says when treatment is completed, she expects she may have some permanent depth perception loss.
Some surgery to alleviate contractions from facial burn scarring may be necessary, Olson said. Some facial bandages already have been removed. She said while there is some pain, it is not severe. "I'm doing good," she said Thursday while still at Lewis-McChord. "I'm counting my blessings," she says. "It could have been much worse."
Olson, who was deployed to Afghanistan last Dec. 11, hopes to return as soon as possible. "My group is still out there and I'm not able to help out," she says.
"I have no change of plans," Olson says about her goal for a military career as a medic. "I have every intention to stay in and to forge the way for females to be in combat roles." She would prefer her service be on the front lines, including the dream of serving with a Special Forces medical team, currently not allowed by military rules.
While serving as a medic, Olson also is part of a six-member Female Engagement Team, working with Afghan women and children to help better their lives and to gain intelligence on the Taliban. They help the women learn to produce goods such as hand-sewn scarves and canned fruit for extra income and teach self-sufficiency skills.
Olson said she was inspired to serve her country by her university classes in history and political science. She thought she might become a history teacher, but changed when she began to realize "we live in the greatest country in the world and I would be honored to serve, but serve in a different role." She was making arrangements to enlist during her senior year prior to graduation.
On May 16, the U.S. Army published a previously written story on Olson. It can be found here:
Olson's contact information is available upon request: