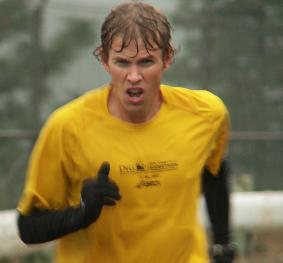 Faith-Based Coaching Put to Test — U.S. Olympic Marathoner Ryan Hall Prepares for Summer Olympic Games
Tim Jeffreys, World Vision,
Ryan Hall, the fastest marathon runner in American history is preparing for the race of his life this August in London at the Summer Olympic Games. In order to go down as the best however, Ryan needs to do something that has eluded him his whole career — win an international marathon. And his supporters are raising money to fund a documentary, "The 41st Day," which will chronicle the marathoner's amazing story.
In London, Hall will try to win the biggest race of his life, the 2012 Olympic Marathon, taking on the dominant east Africans in a race that is being billed as the toughest and fastest in Olympic history. Hall isn't an ordinary runner, though. While competitors prepare in training groups under the systematic care of coaches and advisors, Ryan Hall runs alone. Practicing what he calls faith-based coaching, he relies exclusively on the direction of his Christian faith to dictate his training, an unprecedented and often scrutinized approach in the world of distance running. "For me, running is an art more than a science," says Ryan. Will his faith be enough to take him to the top? This film will tell his story.
To help: www.kickstarter.com/projects/1694465205/the-41st-day
In 2008, Ryan Hall finished 10th in the Summer Olympic Games in Beijing. That year, Ryan worked with Team World Vision and thousands of runners across the country to raise money for World Vision projects in Africa. The money went toward urgently-needed clean water projects in Zambia, in Southern Africa. After the Games, Ryan Hall and his wife, fellow Olympian Sara Hall joined Team World Vision athletes for a trip to Zambia to see World Vision work. Team World Vision started in 2005 with runners participating in races on their own to raise funds for World Vision. In 2006, Team World Vision had just over 100 runners in the Chicago Marathon. In 2010, there were more than 1,200. That year, Team World Vision runners raised over 1 million dollars. The money raised provides children and communities in Africa with clean water.
In 2006, Hall won his first national title in the 12-k cross-country championships, winning by 27 seconds. That year, he also broke a U.S. 20-kilometer record by 48 seconds. In 2007, his 2:08:24 was the fastest marathon debut by any American. In November, Hall won the 2008 U.S. Olympic Team Trials Marathon in a record 2:09:02 in New York qualifying to run the marathon at the 2008 Olympic Games in Beijing.
Currently, Ryan Hall is training in California and Northern Arizona.