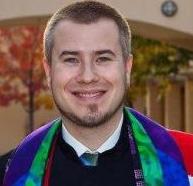 The Medford Mail Tribune featured a story about Adam Walker Cleaveland,Associate Pastor of Ashland's First Presbyterian Church, who is creating a new restaurant called Theology Pub. The idea is to reach people where they are at — and where many Oregonians are at is taverns. Here is a highlight of the article,
Walker Cleaveland, who assumed his post three months ago, snatched the model from British pastors and found it worked well in a previous job in Livermore, Calif., where ale-quaffers seemed more than happy to join informal chats — no sermons — about faith, creation, hell and whether the Bible is really the word of God. Why the Bible in bars? "We're reaching out in new and creative ways. We're going where the people are already at," says Walker Cleaveland, 32. "Some people have had bad experiences in churches and don't think it's a safe place. Churches have to rethink the way we do our ministries. I mean, why expect them to leave the pub and go to church?"

The tenor of Theology Pub is decidedly un-churchlike, and Walker Cleaveland won't be saying, "Here's the correct view," he notes."If we all leave a little more confused and with a lot of new questions in our minds, then I've done a good job," he says.
Read more