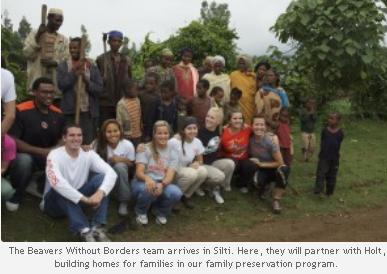 The student-athletes arrive in Silti and get the "welcome" of a lifetime.
By Robin Munro, Senior Writer
Holt International
This week Holt Senior Writer Robin Munro joins 14 Oregon State University (OSU) athletes traveling to Silti, Ethiopia. On this exciting trip, the athletes — volunteers with OSU's Beavers Without Borders — will build homes for struggling families in Holt's family preservation program. Initiated by former OSU football player Taylor Kavanaugh, Beavers Without Borders is an organization that gives OSU athletes the opportunity to travel to developing countries to help families in need.
Silti, Ethiopia — Some moments in life are so extraordinary, so surreal, they leave you thinking, 'Did that really just happen?"
The Beavers Without Borders team arrives in Silti. Here, they will partner with Holt, building homes for families in our family preservation program.
For the OSU students and Holt staff traveling on the Beavers Without Borders trip to Ethiopia, today brought one of those moments.
The students arrived in Addis Ababa yesterday afternoon to a warm welcome by Dr. Fikru, Holt Ethiopia's country director, and the Holt Ethiopia staff. After a quick tour of the Holt office, where the staff presented each of them with a rose, the students piled into three vans and headed south for Butajira.
Although sleepy from two days of travel, everyone marvels at the vast Ethiopian landscape glowing in the setting sun. Our destination lies a little over two hours south of Addis, in a rural agricultural area rimmed by the hilly calderas that edge the Great Rift Valley. Here, in a small, Muslim village in the district of Silti, the student-athletes will build two houses for families in Holt's family preservation project.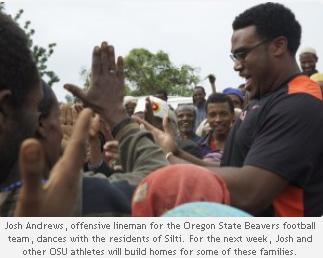 The sky turns dark and flashes with lightning as we get closer, illuminating the small villages on each side of the road. Fields of maize and coffee trees are interspersed by traditional round homes and the occasional spire of a mosque. When we arrive at the hotel, we eat in a dimly lit bamboo hut, smoky with the smell of roasting coffee. And then, we sleep.
We wake early and head for the village. I ride with Josh Andrews, a football player, Martie Massey, volleyball, Clark Fisher, rowing, and Stephanie McGregor, the sole gymnast on the trip. As we approach the village, a big white banner hangs from the brush. It reads "Welcome Beavers Without Borders Team Members." On a road free from any other signs or advertising, it hangs in sharp contrast. It sticks out. Just as we stick out, drawing curious stares from passersby.
We turn right onto a bumpy dirt road into the village. As children see us coming, they smile and wave and begin to run alongside the van.
"This is crazy," says Josh, a behemoth offensive lineman with massive, tattooed arms and a dimpled smile that could charm a hyena. We may need him to, so that's fortunate.
Josh Andrews, offensive lineman for the Oregon State Beavers football team, dances with the residents of Silti. For the next week, Josh and other OSU athletes will build homes for some of these families.
"They're so pretty!" declares Martie, whose voice breaks mid-sentence as we hear the high-pitched "lu-lu-lu" sound of the women in the village. This is a celebration sound – a sound of great happiness. They are welcoming us.
Beneath her black and orange Oregon State baseball cap, Martie is tearing up. I turn around to see that Stephanie is also crying – crying and smiling, totally overcome.
"What are you feeling right now?" I ask.
"Overwhelmed," they say. "Shocked."
"I didn't expect them to be so welcoming. I knew they would welcome us, but I still expected to feel like a stranger," Martie says later. "I couldn't imagine my presence being so important to them. I sort of lost it."
Julia and Margo, members of the team
As we pull up to the first building site, it seems as though the entire village has gathered to greet us. The older women approach singing and dancing and beating drums. We are pressed body to body with the members of the community, who look at us with warm, inviting smiles. Now, almost everyone in our group has tears in their eyes – even Larry Carter, a 9-year, veteran Holt staff member. He often travels, but rare if ever does he receive a welcome like this.
As the community dances, they invite the students to dance with them. First Julia Sattler, a porcelain-skinned soccer player, enters the mix – her blonde braid bouncing above the crowd. Then Josh and Chloe and several more join in, eliciting cheers and laughter as they attempt the local dance.
As the dancing and singing dies down, a representative from each group – including Dr. Fikru – makes a statement. The media for the southern region has come to film our arrival, and cameras face each speaker.
"To come to this site to visit us – to encourage us – we appreciate," says a local representative for the community, through translation.
Jim, an OSU administrator and forestry professor, speaks for the Beavers Without Borders. "When we come to do projects we call 'service,' what we find is that the service goes the other way," he says. "We learn as much from you. On behalf of the students and Oregon State University, thank you for this wonderful welcome."
Sarah Halfman, Holt's director of Africa programs and our leader on this trip, also says a few words. Then, she turns to the students. "Amasegenallo!" they shout in unison. Or 'thank you,' in Amheric.
Truly, these students have just had the experience of a lifetime. We all have.