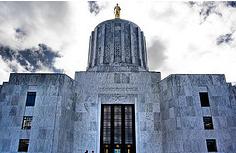 Abuse of Oregon assistance programs must be addressed
By Senate Republican Office
Salem, OR – Senate Republicans will continue to push legislation that can safeguard the integrity of Oregon's public assistance programs. Data recently released to The Oregonian revealed disturbing evidence of misuse of these funds. In an effort to protect programs for needy Oregon families, Republicans introduced legislation in 2011 to require drug testing for individuals on public assistance.
"Oregon's assistance programs are meant to help struggling Oregon families pay for groceries, gas and rent while they get back on their feet," said Senator Bruce Starr (R-Hillsboro) who sponsored the 2011 legislation. "A few bad apples are abusing these payouts to gamble, drink and visit strip clubs. Putting a stop to that type of exploitation protects taxpayer dollars and shields the resources for those who need them most."
The state currently disburses $16 million every month to families that are far enough below the federal poverty line to qualify. The money is made available through the Oregon Trail Card and is intended to be used for necessities. Currently more than 37,000 families benefit.
However, new data shows a series of transactions that have occurred in Oregon casinos, liquor stores, bars and strip clubs. For example, $1,200 in transactions were conducted at a Portland bar and dancing establishment. Republicans want to put restrictions in place that prohibit transactions that are clearly flagrant abuses of the program.
"It isn't just inappropriate, it undermines the effectiveness and mission of the program and puts the families that truly are in need at risk," said Starr. "Putting tighter restrictions in place on Oregon Trail Cards can help insure the long-term integrity of this program."
Senate Republicans are working to draft legislation to address the problem.