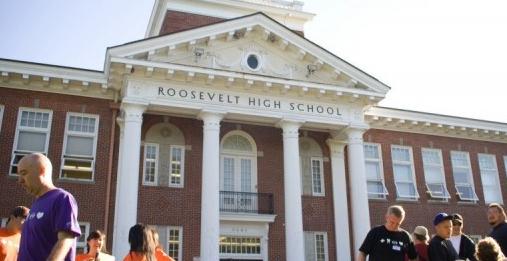 There is power in the collaborative context
Compassion Connect
On a recent sizzling Saturday in early August, more than 325 volunteers representing at least 25 North Portland churches came together in an outstanding display of care for our community for the first ever Compassion North Portland event. Working together on a wide range of teams, (including hospitality, finance, food & refreshment, childcare and social services just to name a few), neighbors shed their denominational identities and graciously took on the roles of servants.
The result? Over 330 free medical, dental, and vision appointments took place in a little over five hours at Roosevelt High School (or at nearby off-site dental clinics). The lines were long, the day was hot, and some were turned away, but in the midst of the chaos, more than just health needs were met. Through smiles, handshakes, and haircuts, the love of Jesus Christ was evident in St. Johns!
I spent most of my day in the gym, helping with the social services fair, which was a smashing success thanks to the generosity of many of you who provided toiletries (or cash for toiletries). Thank you!! I actually ended up coordinating a completely different element of the day than I had anticipated, so my interactions with guests were somewhat limited. Despite that, I connected with a few people and had a chance to hear a bit of their stories and struggles. Now, even two weeks later, as I go about my day walking to the grocery store and hanging out at the park with my boys, I find myself keeping an eye out for these new neighbors. Their lives are no longer invisible and their pain, both physical and otherwise, is suddenly on my mind (not in a creepy kind of way, but in an "I should pray for them right now" kind of way).
Pastor Andy recently spoke on how tough it is for us to put other's interests above our own. The truth is, Compassion North Portland provided more than health & dental screenings; it gave Christ-followers in St. Johns the opportunity to selflessly serve together, being one in spirit and of one mind. Philippians 2 sums it up quite nicely, "Therefore if you have any encouragement from being united with Christ, if any comfort from his love, if any common sharing in the Spirit, if any tenderness and compassion, 2 then make my joy complete by being like-minded, having the same love, being one in spirit and of one mind. 3 Do nothing out of selfish ambition or vain conceit. Rather, in humility value others above yourselves, 4 not looking to your own interests but each of you to the interests of the others." That was Compassion North Portland and it is my prayer that that spirit of humility continues to grow in myself and in our church!
What I find even more encouraging is that Compassion North Portland was just one in a series of about a dozen Compassion clinics to be held in the Portland/Vancouver metro region this year! In pockets all around the city, churches and congregations are coming together, sacrificing their time and talent to be used by the Spirit. How cool is that? Some of you may have seen an excerpt from a book called Sacraments of Place by David Fitch. A while back, Pastor Andy showed a video clip of the author talking about how ideology (i.e. doctrines or beliefs) bogs down churches and that the remedy is to "go local". Fitch writes,
In going local, we inherently refuse to organize around what we are against and instead intentionally gather to participate in God's mission in our neighborhoods, our streets, among the people that we live our daily lives with. Here we gather not around ideas extracted from actual practice in life that we then turn into ideological banners, but around participation in the bounteous new life God has given us in Jesus Christ and his mission. We participate in his reign, the kingdom, by actually practicing the reconciliation, new creation, justice, and righteousness God is doing and made possible in Jesus Christ. Here we become a people of the gospel again.
In time, we may or may not learn of stories of connections made, of bodies healed, or spirits refreshed because of the day's efforts, but for now, it is enough to know that we were participants in living out the Gospel, in our own little way, in our own little place, here in St. Johns.