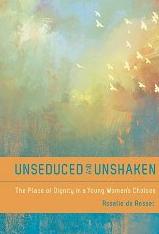 New Book Challenges Women to Go Beyond 'Shades of Grey'
Even as the cyprian trilogy Fifty Shades of Grey is quickly becoming one of the fastest-selling series in recent years, a surprising new book that challenges readers to choose dignity over desire is beginning to find an audience with women everywhere.  Authored by Dr. Rosalie de Rosset, a professor of literature at Moody Bible Institute in Chicago, Unseduced and Unshaken: The Place of Dignity in a Young Woman's Choices is a collection of essays that will help readers to become formidable, self-possessed individuals of moral sensibility.
Readers are challenged to move beyond "impoverished" views of womanhood — and impoverished literature, for that matter. "We have to read to begin with, but we also have to read well. Good fiction is a wellspring of delight once we have broken the habit of consuming junk," Dr. de Rosset says candidly.
Still, pop culture isn't entirely at fault, the author adds. The "acute shallowness" of many women's ministries is a tragic reality in the church today.
Theology, Dr. de Rosset notes, is a word we have associated with scholars, professors, pastors and men … probably in that order. "The underlying presupposition is that theological, intellectual or in-depth biblical subjects are not appealing to women."
It is "soul-nurture" women need to be engaged in, she explains: "This is what Christ modeled for women so powerfully throughout His ministry on earth, both in the way He treated them and in the way He spoke to them. For that reason, the church above all other institutions, must model the habit of giving worth and dignity to every individual … believing that each person is a valued creation of God."
Uncompromising yet unassuming, the author leads readers toward a greater understanding of who they are before God, helping them deal thoughtfully with their personhood as they make decisions about the women they will become.
Peppered with discussion-sparking questions at the end of each chapter, Unseduced and Unshaken is ideal for groups and addresses all aspects of a woman's life — from education and leisure, to spiritual existence and the importance women must place on their intellect and their bodies. Topics include: Finding Your Voice: Knowing and Being Known; A Theology of Play: Mindful or Mindless; Reading as a Spiritual Exercise; and Sexual Dignity: Not by Accident.