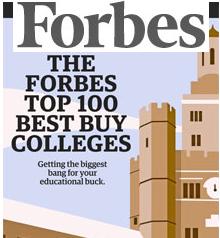 Magazine ranks George Fox among nation's top 10 Christian colleges and 180th among private colleges
by George Fox University
For the third time in four years, George Fox University is one of the top 10 Christian colleges in the country in Forbes' annual "America's Best Colleges" rankings. Forbes ranked 650 of the roughly 4,000 colleges in the United States and based its rankings on "the things that matter the most to students: quality of teaching, great career prospects, high graduation rates and low-levels of debt," according to the Forbes website. The 2012 rankings were posted on Aug. 1.
George Fox ranked No. 180 among all U.S. private colleges and joined Wheaton, Westmont, Erskine, Ozarks, Calvin, Seattle Pacific, Biola and Huntington as the top 10 institutions from the 116-member Council for Christian Colleges & Universities. George Fox (226th overall) also ranked fifth in the state of Oregon, behind Reed College (68th), Willamette University (90th), Lewis & Clark College (204th) and the University of Oregon (210th).
Princeton University earned the top spot overall, ahead of Williams, Stanford, University of Chicago and Yale. Rounding out the top 10 were Harvard, the U.S. Military Academy, Columbia, Pomona and Swarthmore.
Forbes' rankings and methodology are posted online at the Forbes.com site. According to Forbes, its ranking system is designed to stress the outputs of a college education rather than the inputs stressed by the U.S. News and World Report college rankings.
The rankings are based on five general categories: post graduate success (32.5%), which evaluates alumni pay and prominence; student satisfaction (27.5%), which includes professor evaluations and freshman to sophomore year retention rates; debt (17.5%), which penalizes schools for high student debt loads and default rates; four-year graduation rate (11.25%); and competitive awards (11.25%), which rewards schools whose students win prestigious scholarships and fellowships like the Rhodes, the Marshall and the Fulbright or go on to earn a Ph.D.
Forbes conducts its own research from third-party sources and did not use data supplied directly by George Fox or any other institution. The Forbes ranking was created by Richard Vedder, an economist at Ohio University, and the Center for College Affordability and Productivity.
George Fox University is ranked by Forbes and Kiplinger's among the top Christian universities in the country and is a Christian college classified by U.S. News & World Report as a first tier regional university and a "Best Value" school. More than 3,500 students attend classes on the university's campus in Newberg, Ore., and at teaching centers in Portland, Salem, and Redmond, Ore., and Boise, Idaho. George Fox offers bachelor's degrees in more than 40 majors, degree-completion programs for working adults, five seminary degrees, and 11 master's and doctoral degrees.