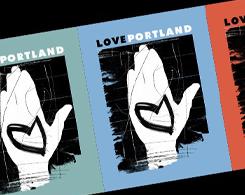 By Imago Dei
Portland Church
Several months ago, leadership from Imago Dei Community met with the city of Portland and asked the question, "What can we do to serve the city? Where is there a need?" The mayor's office replied asking for help preparing Portland's schools for the upcoming school year. Last Saturday, hundreds of volunteers spread out across the city of Portland to clean up and serve our local schools, for our annual Love Portland event.
Here are reports from each of the schools we served, written by volunteers.
Franklin High School: Written by Joe Greenetz
Landscaping was the name of the game at Franklin High School for Love Portland 2012. Franklin's twenty-acre campus has room for renovation all over the place, but we stuck to the perimeter of the classroom and auditorium buildings, where Imago Dei used to meet every week for over four years. The school's all-alumni landscape improvement crew joined our sixty-plus volunteers and we tackled the garden beds and bushes with wild abandon. "You guys have the magic touch," one alumnus told me as she surveyed our weeding work on a particularly difficult rock garden. It was a beautiful morning of shared devotion for Franklin and our city.
Volunteers at Franklin High School egin the day's work by pulling weeds
Hayhurst Elementary: Written by Brandon Erickson
Another great Love Portland event at Hayhurst Elementary in 2012! In total, there were 80+ in attendance and all worked extremely hard on the two main projects, front & middle court yard clean up, which allowed us to start and finish a third project near the edge of the sports fields. Amazing how much a difference bark dust makes to the look of a school!
One highlight was pastor Luke Hendrix's "trusty" trailer that was a lifesaver. Since we did not receive a debris dumpster this year, without this trailer we would have had to pile the debris at the wrong end of the school for later pick up. With the trailer we were able to relocate the debris to the correct area of the school. Luke told me he wasn't originally planning on bringing the trailer until he asked his wife, Donna, and she recommended he did. Divine intervention at work!
Finally, a story from the day from a leader of partner church, Missio Community of Portland:
"…wanted to share that I got to rub shoulders with a few people. One parent lives in NE but has his kids in the program at Hayhurst. We talked about Christianity and the desire to simply love the city. He was a bit skeptical but oddly open. I told him he ought to check out Imago since he's so close to it. He might seriously do it! Not bad today – love on the city and open some doors for people to meet Christ. That, I think, is a solid win for the kingdom. Grateful to partner with Imago today."
Thanks to all for their partnership in another great Love Portland day! A practical, yet powerful witness to "on earth as it is in heaven!"
Volunteers trim hedges at Hayhurst Elementary
Kelly Elementary: Written by Dana Bertermann
It was hot. We got dirt under our fingernails and paint on our favorite shorts, but it didn't matter – Kelly Elementary was getting a lovely facelift.
A walk around campus revealed inspiring conversations – the man who works with cancer patients, the woman who wants to teach her neighbors to cook healthfully and another who travels to health clinics in South Sudan.
Like the boy I met whose "dad makes me work really hard at home," we all find our own ways to Love Portland. And for a few hours – and into the school year to come – Kelly was part of the beauty that happens when we put our faith to work.
Alder Elementary: Written by Elly Reynolds
I was up early Saturday morning with memories of previous Love Portland Saturdays on my mind. I was returning to Alder Elementary after four years of being at another school. It was great to see the way the people in the community are using some of the projects that we completed that year. It was especially meaningful today to have families from the school and other volunteers join us as we all worked to make Alder look great for students when they return.
At the end of the day, projects complete, we left with new friends and a few flagpole projects in hand, the principal's words ringing in my ears: "If the Lord puts it in your heart to continue to help our families . . ."
Volunteers work together on artwork for Alder Elementary students to enjoy this fall
LEP high: Written by Jen Frankamp
The Love Portland team at LEP High arrived on site early on Saturday morning and got to work painting, painting and then doing some more painting! LEP, a 7-year-old charter school just up the street from Imago, asked us to repaint much of the inside of the school in preparation for their annual "Welcome Back to School Bash" and the start of classes this fall.
With the help of about forty volunteers, including two who operate their own painting businesses, Imago's Love Portland team completed all the projects that LEP asked for. During the closing prayer and thank you, the LEP staff shared that "Imago Dei Community is such a blessing to LEP High. We are so thankful to have you as neighbors and it's great to see your love and service here."
Harrison Park: Written by Jen Frankamp
We had 75 volunteers at Love Portland Harrison Park this year! In addition to folks from Imago Dei, we had volunteers join us from the Harrison Park teaching staff, the school's neighbors and members of Door of Hope church.
Harrison Park asked us to complete four projects this year: sprucing up the front and back of the school and weeding and building planters for two courtyards. Our volunteers included two muralists who designed and painted a mural of the school's logo on the back of the school. There were quite a few kids who helped as well by working on the mural and creating a banner for the school to welcome students back in the fall.
Pastor Jeff Marsh spoke before the day of work began and he communicated that Love Portland is all about demonstrating God's love for the city and our purpose in participating in Love Portland is to serve him by loving our neighbors.
"Do nothing out of selfish ambition or vain conceit. Rather, in humility value others above yourselves."
Philippians 2:2-4