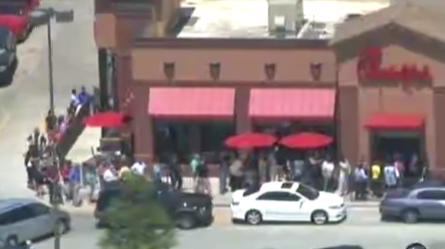 By Guest Opinion,
There is no Chick-fil-A restaurant in Oregon, but that does not mean that the gravity of politics will not pull our state into the debate. Recently Chick-Fil-A's Chief Operating Officer, Dan Cathy, issued comments about support for traditional marriage which infuriated a Chicago official who at first vowed that no Chick-Fil-A's would be approved in the city area (He later moderated his comments). From there radio host Mike Huckabee called for a Chick-Fil-A appreciation day and gay rights groups called for a protest.
The Oregonian issued an online poll asking for people to submit their opinions on the Chick-Fil-A controversy. As of 8/2, the results showing 28% supporting Chick-Fil-A for their support of traditional marriage and 36% not-supporting Chick-Fil-A for their support of marriage equity and a hefty 24% supporting Chick-Fil-A because they love fried chicken.

The Bill Post Radio Show dedicated all three hours to the topic on Wednesday. Political passions may even be more heated in light of a marriage ballot measure across the river in the State of Washington.
Below is a ABC news video on the recent Chick-Fil-A news.