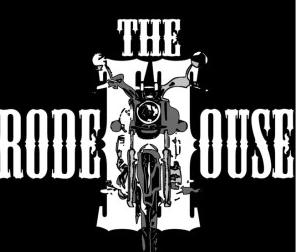 By Sheila Allen
NW Baptist Convention,
The question rocked Pastor Kinne Callaway's world when first posed to him by the young man — "If I never accepted Christ, would you still be my friend?"
Trained to share the gospel message with everyone, Callaway was moved to honestly consider his motivation in life by that tough question. After 35 years of ministry in non-traditional churches, he has now taken the biggest risk of his life by moving to Bend, Ore., and leading The RodeHouse, a church bearing little resemblance to the brick and mortar structures many imagine when "church" gets mentioned.
"I want to reach pre-believers and I want to do it with a motorcycle," Callaway said. "I want to reach a culture nobody cares about — bikers."
After moving to Bend three years ago, Callaway began to mesh with the biker world by joining poker runs — charity events bikers use — and sitting in bars.
"I engage the culture," Callaway said. "I think God is working and he has bikers in hot pursuit. The persona of the rough, tough guy is phony and our biggest supporters are lost. They invite people because they like this sense of community. They care for each other, defend one another to a fault, but will be as honest and as judgmental as anyone else."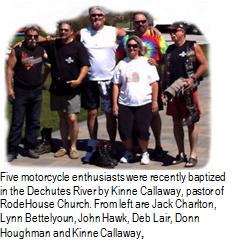 Callaway began riding with an association of veterans who enjoy motorcycles and has become their chaplain. Last summer the group had a rally and The RodeHouse provided breakfast and a service for the bikers.
"I gave anyone who wanted to leave a chance to do so before the service began," Callaway said. "I told the group that the next week we would meet at a diner to eat and I would throw out a question for them to consider during a ride. We then drive somewhere and stop to discuss the question. This gives pre-believers an opportunity for input."
The group gathered about 20 riders last year and began using a building that previously housed the High Desert Baptist Association during winter months for their discussions.
"We call it "the box" because we want to live and think outside the box," Callaway said. "I have asked questions such as 'If someone saw you talking to Jesus, would that hurt your reputation?' and 'What's the worst thing you've ever done?' We ride on Sunday morning, because it is the best time to reach the unchurched – not the churched bikers who are already in church on Sunday. Last week we baptized five people. There were 30 bikes out for the ride with 45 riders and we stopped and had the baptism in the river." A patch with the RodeHouse Church logo is available for bikers associating with the unconventional church.
"I was baptized today," said Donn Houghman after the service. "I have surrendered to God and am not alone anymore. It was a beautiful day and I am a new man."
While many bikers think riding offers them freedom, Callaway continually points them to true freedom they can only find in Christ.
"Our services aren't your daddy's services," Callaway noted. "People are honest and many times there are stumbling blocks along the way to the cross. We often don't let pre-believers ask questions. Lots of bikers think no one loves them, but for some reason people like me and I have the ability to love them where they are. I don't look like a pastor."
Callaway is the first to admit the group faces some tough issues that many churches don't.
"We have people that live together and we'll have cuss words," Callaway said. "You have to meet people where they are at. We can get people to conform to our image, but we would rather God transform them from the inside out. This is actually the most fun I've ever had. It's nothing I'm doing but God is transforming them."
As relationships develop and evangelism takes place, RodeHouse is still defining its structure. There are currently five men on a leadership team buying into the vision of what Callaway is doing.
"I prayed tonight at dinner for the first time," said Lynn Bettelyoung, a RodeHouse another recently baptized regular. It may not seem like much to a normal follower, but it was a huge step for me. Today if the first day of the rest of my life."
"We want to build the kingdom – not a RodeHouse kingdom," Callaway said. "Is this going to be self supporting? I don't know. It would be ideal for a church to come alongside us to give us some stability but freedom to be unconventional. It has been remarkable how we've been taken care of so far, with the support I've received from the Northwest Baptist Convention and others. This is a great place to lose yourself and reach the lost."