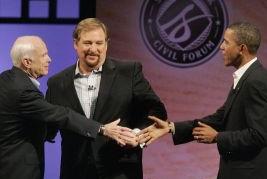 Rick Warren cancels Presidential Forum repeat
Oregon Faith News Note:
Rick Warren has canceled plans for second presidential candidate forum to follow in the footsteps of the 2008 forum which featured both candidates Barack Obama and John McCain. The reason cited was uncivil discourse among both the Obama and Romney campaign.
This month alone has seen many headlines pertaining to negative attack ads. Romney has issued TV ads attacking Obama on Medicare cuts that the President claim are false. On the other hand the Romney campaign has accused the Obama campaign of negativity with charges that Romney is felon and also targeting an ad claiming Romney's business decision caused a worker's wife to die of cancer.
Warren told the Orange County Register about his decision"We created the civil forums to promote civility and personal respect between people with major differences," Warren said. "The forums are meant to be a place where people of goodwill can seriously disagree on significant issues without being disagreeable or resorting to personal attack and name-calling. But that is not the climate of today's campaign. I've never seen more irresponsible personal attacks, mean-spirited slander, and flat-out dishonest attack ads, and I don't expect that tone to change before the election.It would be hypocritical to pretend civility for one evening only to have the name-calling return the next day,"
Warren also commented on the success of the first forum, "The forum was praised for its unique format and fairness. Also, the TV networks were eager to cover it again since it garnered one of the largest viewing audiences of that election. I talked with both campaigns about the possibility of doing it again, and they were both favorable to participating."