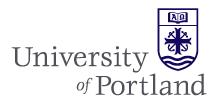 By University of Portland
The film "Dawn of the Dead" will be featured Tuesday, Oct. 30 at 7:15 p.m. as part of the series called "Bringing Eyes of Faith to Film." The event, free and open to the public, will be in Franz Hall, Room 223 on the University of Portland campus, 5000 N. Willamette Blvd.
Each of the distinctly non-religious films presented during the semester are introduced with brief comments inviting viewers to see two themes of grace, transcendence, and finding meaning in one's life. Movie snacks will be provided.
Education professor Karen Eifler and theology professor Rev. Charles Gordon, C.S.C., will make brief presentations before the showing of the film. For more information on the event, which is sponsored by the Garaventa Center, please contact Father Gordon at (503) 943-8512 and Eifler at (503) 943-8014.