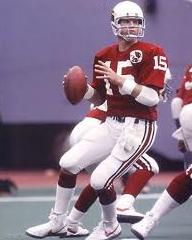 Fellowship of Christian Athletes:
Neil Lomax, an assistant coach at Roosevelt High School who set multiple NCAA passing records as a quarterback at Portland State University before embarking on an All-Pro career in the National Football League, has been elected to the Fellowship of Christian Athletes Hall of Champions.
FCA is the world's largest Christian sports ministry.
Lomax is in his fourth year as a volunteer assistant football coach at Roosevelt, assisting head coach Christian Swain with a Roughriders program that has improved from back-to-back 0-9 seasons in 2008 and 2009, respectively, to a 7-4 mark in 2011. But Lomax's impact on the team has reached far beyond the gridiron.
"Neil's life isn't about numbers, it's about relationships," said Ron Frank, FCA's vice president for field ministry in the Pacific Northwest region. "It was his passion for Christ that led Neil to volunteer at Roosevelt High School in North Portland, an extremely challenging urban environment. God has used him to impact coaches, athletes and the community.
"Neil has served as a mentor to Coach Swain, and it was Neil's generosity that Christian and his wife, Kia, attended a recent FCA Couples Getaway, where God transformed their lives and marriage. As a result, Coach Swain and Kia joined with another coach and that coach's wife and 14 Roosevelt football players at the FCA Sports Camp in Nampa, Idaho, where many players – and Christian's 14-year-old daughter – met Christ."
Lomax has served on local and state boards of directors for FCA for over 20 years, and he and his wife, Laurie, have raised significant amounts of money for the organization. Lomax, whose involvement with FCA dates back to his high school days, "has served as the face of FCA in Portland and the Pacific Northwest for many years," according to Frank.
Lomax was drafted by the then-St. Louis (now Arizona) Cardinals in 1981 after a playing career at Portland State in which he set over 90 NCAA Division I-AA (now Football Championship Subdivision) records, including a performance against Delaware State in which he threw for seven touchdowns in one quarter of play. In his final season at PSU, Lomax threw for over 4,000 yards and 37 touchdowns and was the MVP of the 1981 Senior Bowl and finished seventh in the Heisman Trophy Balloting.
He was elected to the National Football Foundation College Football Hall of Fame in 1996.
Over the course of his eight-year NFL career, Lomax earned All-Pro honors in 1984 and 1987 and broke nearly every Cardinals single-season and single-game passing record. His 82.7 career passer rating places him 34th on the NFL's all-time list.
Lomax was forced to retire as a player following the 1988 season due to chronic hip issues that later led to a total hip replacement. Following his playing career, he went on to work as a television commentator and was a regular on the Celebrity Players Tour, competing in several Pro-Am golf events across the country.
Lomax joins Nebraska assistant football coach Ron Brown and longtime high school athletic trainer and Indiana Fever chaplain Kathy Malone Sparks as this year's inductees into FCA's Hall of Champions.
The honorees are determined by an FCA selection committee following a nomination process that includes staff, volunteers, athletes and members of the organization's Board of Trustees.
The Hall of Champions was established in 1991 to honor individuals who have demonstrated a consistent commitment to Jesus Christ through the ministry of FCA. They are considered volunteer "All Stars" who have given above and beyond the call of duty and have upheld the Four Core Values of FCA – Integrity, Serving, Teamwork and Excellence.