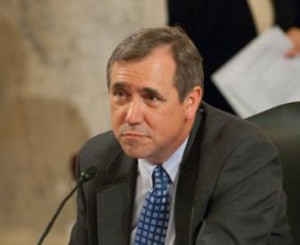 OAJC will present 2012 Human Relations Award to Senator Merkley
Oregon Area Jewish Committee
On October 25, 2012 the Oregon Area Jewish Committee will honor Senator Jeff Merkley with its 2012 Human Relations Award. The award will be presented at a dinner to be held at the Benson Hotel with no-host cocktails at 6:00 PM and dinner at 7:00 PM.
OAJC has been a presence in Oregon for over 30 years, advancing social justice, human rights, religious liberty, support for Israel, mutual understanding, and democratic principles. OAJC is pleased to present this award to Senator Merkley, who has worked his whole career for so many of the principles that OAJC stands for. About OAJC, Senator Merkley has said: "OAJC has long been a valued voice in our community. Whether it's insisting on civil rights and liberties at home and human rights around the world, or standing up for the needs of the most vulnerable, their faith and conviction always helps bring out the best in our community."

OAJC's Human Relations Award is presented to leaders and corporations in our community who, with their skills, influence, and dedication, have demonstrated their profound commitment to preserving our heritage of democracy.
Past recipients of the Award include: John Piacentini, John L. Schwabe, Delores and Norm Winningstad, Joan and Ken Austin, Gwyneth Gamble Booth, Senator Bob Packwood, Oran B. Robertson, US West Communications, Fred Meyer Inc., U.S. Bank, Portland State University, Serge D'Rovencourt, The Oregon Community Foundation, Bank of America, PacifiCorp, Stoel Rives LLP, Dr. Peter Kohler of OHSU, Michelle Girts of CH2MHILL, Senator Gordon Smith, Bob Walsh of Walsh Construction, General Raymond F. Rees of the Oregon National Guard, Senator Ron Wyden, Providence Health & Services, Wells Fargo, and the Port of Portland. Dinner co-chairs are Chandra Brown and Kenneth Lewis. Event sponsors as of October 1 include The Greenbrier Companies, Income Property Management Jay & Diane Zidell Charitable Foundation, Miller Nash LLP, PacifiCorp, The Port of Portland, Providence Health & Services, Schwabe Williamson & Wyatt, and Wells Fargo. To learn more about becoming an event sponsor, contact Amy Geoffroy at 503-295-6761 or [email protected]. Individual reservations are $200. They can be made at www.oajconline.org or by calling the office.