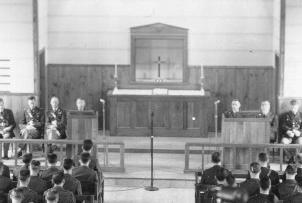 The last of 11 Camp Adair chapels is finally located
By Faith News Note:
Amateur historian Gary Richards has finally tracked down all 11 of the Camp Adair military chapels. The 57,000-acre Camp Adair, which was located about six miles north of Corvallis, was built during World War II to train GIs for combat. More than 100,000 soldiers passed through the camp before being deployed to North Africa, Western Europe, and the Philippines. Before going overseas, many of the men prayed in one of these chapels.
After the war, the camp's 1,800 buildings were torn down and sold as scrap. But the chapels were set aside for use by religious organizations as either churches or war memorials.
Richards grew up in a community on the northern edge of the Army base. When he and his family arrived in 1947, most of the camp had already been dismantled.
About two years ago, Richards decided to find out what had happened to the chapels. After doing painstaking research he located nine. He found the tenth by following up on leads given to him by readers after an article about his search appeared in the Corvallis Gazette-Times and the Albany Democrat-Herald.
Recently, he finally located Chapel 11 after he received a tip from a man in Sweet Home.
For further details, see https://www.timesunion.com/news/article/One-man-s-church-search-Old-chapels-of-Ore-base-3979223.php