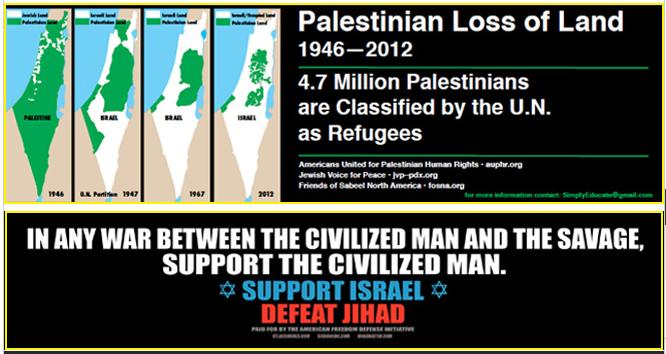 Portland TriMet ads spark controversy
By Oregon Faith News Note:

Ads on their vehicles are sparking controversy, but TriMet can't do anything about it. Many people find the ads offensive, but a 2008 ruling by the Multnomah County Circuit Court is forcing TriMet to accept all ads as a matter of free speech. TriMet has challenged that ruling and is waiting for the Oregon Supreme Court to review the case.
In September, pro-Palestinian ads appeared, stating, "47 million Palestinians are classified by the U.N. as refugees," an ad paid for by Americans United for Palestinian Human Rights.
Now in October, pro-Israel ads will appear, stating, "In any war between the civilized man and the savage, support the civilized man. Support Israel. Defeat jihad," paid for by the American Freedom Defense Initiative.
Drew Blevins, TriMet director of Marketing and Customer Information, told KPTV, "We want to let our riders and the public know that we're disappointed our vehicles have become a medium for divisive discussion, but at this time, we have no other option except to allow the ad on our vehicles."
"We support free speech, but we hope the Oregon Supreme Court will once again allow us to limit ads to only commercial goods and services."
For more details, see here