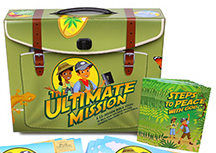 Erik Ogren,
Billy Graham Evangelistic Association,
The Billy Graham Evangelistic Association (BGEA) has launched their latest initiative aimed at helping children grow in their faith and share their beliefs with their friends and family. The Ultimate Mission, a 12-session Bible study developed for ages 6-10, was announced this week at the annual Children's Pastors Conference in San Diego, Calif.
The Ultimate Mission introduces students to characters Jacob and Jordan, missionary kids who take the children through three books (each book containing four lessons) on the topics of God's Great Gift, Walking with God, and Sharing God's Gift. Through the study, the students will get an understanding of sin and redemption from a biblical perspective, learn from the examples of people who walked with God, and ultimately become equipped to share the Gospel of Jesus with others.
"We're looking at basic discipleship. What does it look like to walk with God in a way that I might be asked about my relationship with Jesus Christ, and then will I be ready to give an answer?" said Chad Miller, BGEA's director of Children's & Youth Evangelism Training, who launched The Ultimate Mission at a product review with peers and children's pastors.
"It's clear that 6-10 year olds — unlike previous generations — are being asked, and sometimes even harassed, about their faith, and we're ready to come alongside the churches to let these students know that they're not alone," Miller said. "We want to equip them to take a stand and give an answer whenever someone asks them about the hope they have."
In addition to the curriculum materials, a website has been built to support both the students and the teachers. TheUltimateMission.org encourages kids and parents with additional Gospel presentations, follow-up materials and the specially-tailored children's version of "Steps to Peace with God." The teacher's resource area will offer additional tools to aid teachers in presenting the curriculum, including handouts and other materials that are developed as the content emerges and evolves.