Sex trafficking legislation receives public hearing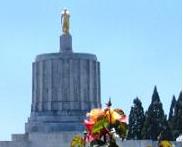 Senator Betsy Close Press Release

 A bill to close loopholes in Oregon's anti-sex trafficking statutes took another step closer to becoming law on Tuesday. The Senate Judiciary Committee heard Senate Bill 673, a bi-partisan bill that strengthens the penalties for trafficking children.
"Thirteen year olds should have a chance to be kids; to have dreams and aspirations; to play soccer or go to the mall," said Senator Betsy Close (R-Albany/Corvallis) who is sponsoring the legislation with Senator Betsy Johnson (D-Scapoose). "No child should have to suffer through the horrors of sex trafficking exploitation."
Every year, over 100,000 children are trafficked for sex in the United States, and, on average, these children are first exploited at age thirteen. Human trafficking is a $9.8 billion industry in this country, and it is happening in Oregon.
Oregon recently received a "D" in a report card from Shared Hope International, an organization dedicated to fighting sex trafficking. The report outlines several flaws in Oregon's sex trafficking law.
Senate Bill 673 deals with criminalizing domestic minor sex trafficking, increasing sentencing allowances for consumers, suppliers and facilitators of sex trafficking, providing greater protection for child victims of sex trafficking and giving investigators and prosecutors additional tools.