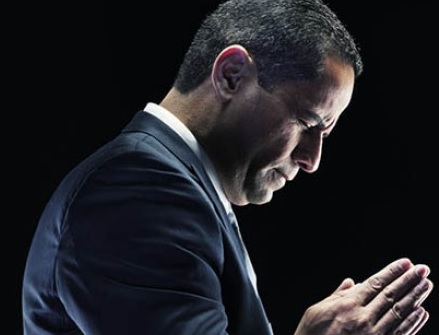 Time Magazine Press Release,
Rev. Wilfredo De Jesús, better known as "Pastor Choco," has been selected for the 2013 TIME 100, the magazine's annual list of the 100 most influential people in the world. The full list and related tributes appear in the April 29 issue of TIME, available on newsstands and tablets Friday, April 19, and now available at https://time.com/time100.
"I am honored to be named to TIME's 100.  It's a great privilege to be a voice not only for the Latino Christian community, but also for the poor and voiceless in our society," De Jesús said. "The Hispanic community in the U.S. is over 51 million strong. We're people God has chosen to govern and to lead communities and cities with conviction, unapologetically. There are many great leaders in this community, and I am truly humbled by this recognition."
The TIME 100 list, now in its 10th year, recognizes the activism, innovation and achievement of the world's most influential individuals. As TIME Managing Editor Richard Stengel has said of the list in the past, "The TIME 100 is not a list of the most powerful people in the world, it's not a list of the smartest people in the world, it's a list of the most influential people in the world. They're scientists, they're thinkers, they're philosophers, they're leaders, they're icons, they're artists, they're visionaries. People who are using their ideas, their visions, their actions to transform the world and have an effect on a multitude of people."
De Jesús was featured on the cover and in the accompanying story of TIME's April 15 edition, "The Latino Reformation," which explored the growth of Latinos among Protestant churches across the U.S.
De Jesús is Senior Pastor of New Life Covenant Ministries, one of the fastest growing churches in Chicago and the largest Assemblies of God church in the nation. De Jesús grew up both in the church and surrounding neighborhood, which provides him a unique perspective on leading this dynamic and diverse congregation.
When De Jesús began pastoring the church in July 2000, it averaged 120 attendees per weekend. Today, New Life has 5,000 local members and 14,000 globally through church plants and boasts more than 130 ministries reaching the most destitute—the homeless, prostitutes, drug addicts and gang members. These multi-faceted development programs offer everything from food and clothing pantries to transitional shelters, residential recovery and job training programs; mobile soup kitchens for the homeless and shut-ins; gang and at-risk youth intervention; world missions and humanitarian relief; after-school tutoring and sports programming; mentoring and prison outreach; and human trafficking and immigration advocacy.
In his first book, Amazing Faith, De Jesús shares his life story and message: "No one is too lost, too evil, too wounded or too hopeless," he writes. "No one is beyond the transforming power of God's love. When we let Him, God fills our hearts with His love, strength and purpose and we become complete."
De Jesús is the Vice President of Social Justice for The National Hispanic Christian Leadership Conference, the nation's largest Hispanic Christian organization, which serves 44,000 churches and close to 15 million born-again Christians.
De Jesús received a bachelor's degree in communications from Trinity International University and a master's degree in Christian ministries from North Park Theological Seminary.  He resides in Chicago with his wife Elizabeth and their three children, Alexandria, Yesenia and Wilfredo, Jr.
Follow @TIME or the hashtag #TIME100 for updates about the list on Twitter or visit https://Facebook.com/TIME.