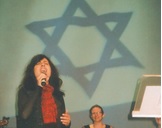 By Christian News Northwest
Subscribe
All that one need do to get a fresh reminder of the common threads between the United States and Israel is to look at the Liberty Bell in Philadelphia, Pa., says retired Israeli ambassador Yoram Ettinger.
Inscribed on the bell is Old Testament Scripture, "Proclaim Liberty throughout all the land unto all the inhabitants thereof," from Leviticus 25:10.  "It certainly reflects the depth of shared values between Israel and the U.S.A.," said Ettinger, featured speaker at the Night to Honor Israel Feb. 26 at New Hope Com-munity Church in Happy Valley. And it is primarily because of those shared values that Israel is the "only reliable, stable democratic ally" America has in the Mideast, he said.
The event was sponsored by local members of Christians United for Israel, a nationwide ministry founded by famed Texas pastor John Hagee to communicate the importance of defending Israel. It featured music by a praise band, an introduction from Randy Neal, CUFI's Western regional coordinator; and brief comments from Andy David, Israeli consul general in San Francisco, Calif., and Grants Pass Pastor Denny Stahl, CUFI's new state coordinator.
Neal emphasized that CUFI is a clearly evangelical Christian organization but is not going to insist that "our Jewish friends" agree with Christians theologically before they are given political support, he said. "I don't believe you can be a Christian without loving what God loves, because my Bible says God loves the Jewish people."
Ettinger, who served as minister for congressional affairs at Israel's embassy in Washington, with the rank of ambassador, spent much of his talk outlining the important contributions Israel has made in technology and other areas. But more importantly, Israel is a steadfast friend to the U.S., he said.
"When it comes to the third down, 20 yards to go, two seconds to go, the U.S. quarterback can count on Israel's wide receiver to get the ball and score the winning touchdown," he said, using a football metaphor.
The son of Romanian Jewish immigrants to Israel, David noted that Americans likely helped pay for many Jews, including his family, to leave European persecution.
"That's the first reason I am here tonight," he said. "I'm thrilled. I'm moved. I want to know who paid for me."