By Randy Alcorn
Eternal Perspectives Ministries, Sandy Oregon
Author of Heaven
Dwight L. Moody once said, "We can stand affliction better than we can prosperity. For in prosperity, we forget God." In the following video and transcript, I share some related thoughts.
Moody's quote reminds me of something that Josef Tson, a believer who was nearly martyred in Ceauşescu's Romania, said in a class I was taking from him: "Ninety percent of Christians pass the test of adversity, while ninety percent of Christians fail the test of prosperity."
This is really in keeping with God's Word. For instance, Deuteronomy 6:10-12 says,
When the Lord your God brings you into the land he swore to your fathers, to Abraham, Isaac and Jacob, to give you—a land with large, flourishing cities you did not build, houses filled with all kinds of good things you did not provide, wells you did not dig, and vineyards and olive groves you did not plant—then when you eat and are satisfied, be careful that you do not forget the Lord, who brought you out of Egypt, out of the land of slavery.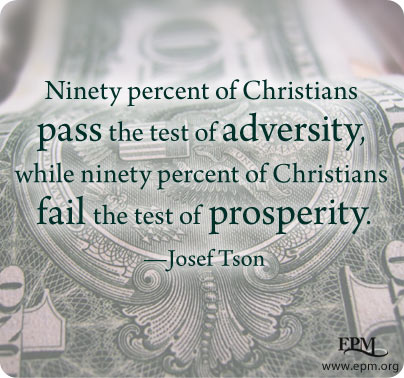 We need to realize that if not for the work of God in our lives, we would have never experienced these abundant blessings. How many good things come our way that we didn't work for or earn or achieve, but were just given into our laps through the homes we grew up in and the culture we live in? These blessings come through the things that God has done in the past and is doing in the present for us.
Hosea 13:6 says, "When I fed them, they were satisfied; when they were satisfied, they became proud; then they forgot me." That's always the danger—to look at all that God has given us and start to think, "This is about us." We can begin to believe that somehow we deserve all that we have instead of acknowledging the sovereign grace of God that has put these good things into our hands.
So let's be conscious in prosperity. The only way you can survive prosperity is to see it as a gift from God's hand, and to use it generously to help other people.