Joseph Anfuso, President and Founder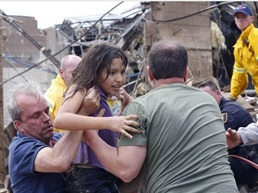 Forward Edge International
Vancouver based charity
You've probably seen it all over the news.
Over the past two days, one of the largest tornadoes in U.S. history has ravaged Oklahoma. Twenty-four are already confirmed dead and hundreds of others are severely injured.
Join Forward Edge in reaching out to our fellow Americans in need of immediate help.
Thank you,
Joseph Anfuso
Photo Right: A child is pulled from the rubble of the Plaza Towers Elementary School in Moore, OK, and passed along to rescuers Monday, May 20, 2013. A tornado as much as a mile (1.6 kilometers) wide with winds up to 200 mph (320 kph) roared through the Oklahoma City suburbs Monday, flattening entire neighborhoods, setting buildings on fire and landing a direct blow on an elementary school. (Yahoo News, AP Photo Sue Ogrocki)