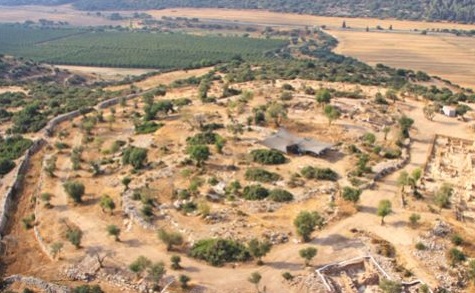 Has the David-Goliath site been found by archeologists?
The Times of Israel reports that archeologists have uncovered more locations of the ancient kingdom of King David — including an area where David is said to have slayed the Philistine Goliath.    The archeologist are working fast to preserve the area as a reserve and stop pending construction.    Here is what the Tim s of Israel reports,
"Two Israeli archaeologists announced that they have found a palace and royal storehouse that belonged to King David. The two buildings are the largest structures standing during the tenth century BCE to have been found in the territory of the Kingdom of Judah.The discovery was made at Khirbet Qeiyafa near Beit Shemesh southwest of Jerusalem, said Professor Yossi Garfinkel of the Hebrew University and Saar Ganor of the Israel Antiquities Authority on Thursday. Over the past year, the researchers uncovered the two buildings at the site, which is believed by some to be the fortified Judean city of Shaarayim.
According to the biblical record, after David smote Goliath, the Philistines were slaughtered on the road to Shaarayim as they fled. Shaarayim means "two gates," and Khirbet Qeiyafa has two gates in its walls.The two archaeologists identified one building as David's palace and the other as a massive royal storeroom. The excavation of the site as a whole has stretched on for seven years."