By Randy Alcorn
Eternal Perspectives Ministries, Sandy Oregon
Author of Heaven
Brandon Andersen with The Resurgence has written great advice to men on relationships. Here's a summary of his article with some of his quotes, and then my own thoughts added in.
Be intentional
The intentional man repeatedly and constantly goes first and takes on all of the risk of rejection. He always lets the girl know where he stands so she feels secure and isn't left guessing. (On the other hand, don't weird her out by talking about marriage on the first date.)
I agree. Male leadership wasn't the result of the Fall, but of creation (as Genesis implies and Paul makes clear in 1 Timothy 2). Loving servanthood should be a man's goal.
Clean your act up today, not "when"
The lie is that once you find the right girl, all your problems will go away—you just need the right motivation, right? Wrong! If Jesus isn't motivation enough to grow in maturity and pursue godliness, then you are not ready to pursue a woman.
This is great advice. Joshua 1:8 says, "This Book of the Law shall not depart from your mouth, but you shall meditate on it day and night, so that you may be careful to do according to all that is written in it." Every man needs to realize that he will only be worth following if he follows God.
God wants to use the next years of your life to send your roots deeper into His Word, deeper into a walk with Christ. He wants you to draw from the reservoir of a solid Christian life, with strong personal accountability to godly men, and from that reservoir to stand strong for Jesus. Satan, on the other hand, wants to mess you up with pride, sexual impurity and every other thing he can do to discredit your testimony for Christ and derail you from serving Him, and from one day having a godly marriage.
Plan ahead
Don't spend time with your girlfriend without a plan. Decide ahead of time the prudent time to say goodnight and where you should go.
Gaps always get filled, often with temptations to sexual impurity. Know what you're doing and either stick with the plan or go somewhere safe, where you're in the sight of others (particularly others who respect the need for purity). You can still have a private conversation even in a room full of people. But their presence will encourage you to focus on the conversation rather than on temptation to impurity.
Guard her heart
A mature man knows that the person that can do the most damage to a woman's heart is him, and he takes that very seriously.
Philippians 2:3-7 says, "Do nothing out of selfish ambition or vain conceit, but in humility consider others better than yourselves. Each of you should look not only to your own interests, but also to the interests of others. Your attitude should be the same as that of Christ Jesus, who…made himself nothing, taking the very nature of a servant."
Be very careful about physical touch
The Bible only outlines two categories for Christian women in relation to Christian men: either she is a sister in Christ or she is your wife. There isn't a middle ground.
I would also encourage you to read through an article I've written that contains Guidelines for Sexual Purity. It's material that I've presented to many young people and their parents over several years. When my now married daughters were teenagers, I honed it further for sharing and discussion with them and the young men who asked to date them.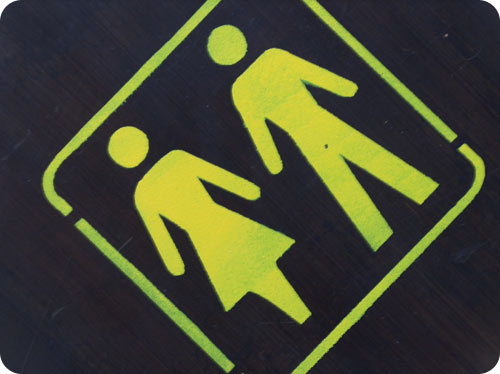 One of the things I say in that article is that it's essential to realize that your date is your sister in Christ—NOT your "lover." "Treat older women as mothers, and younger women as sisters, with absolute purity" (1 Timothy 5:2). Don't go into dating with the goal of romance, but the goal of spending time with your sister. When you begin a relationship, a rule of thumb is, don't do anything physically you wouldn't do with your sister by birth.
If a Christ-centered and positive relationship develops, then you might move to cautious displays of affection such as hand-holding. But be alert to the difference between appropriate affection and intimacy. You must stay safely back from the line where either one is propelled toward sexual intimacy. It's very hard to move back once you've crossed a line—so don't cross it in the first place.
This person may end up being a lifelong friend, or married to your best friend. Don't do anything with her that would cause you to be embarrassed or self-conscious if you end up being best man at her wedding.
It's important that throughout your relationship, you stay close to godly people who can give you advice based on God's Word and who love you enough to tell you the truth…even when it hurts. One of the things I say in several of my books is that what is right is always smart, and what is wrong is always stupid. That which is for God's glory is also always for our good.
Finally, let me recommend a great book by a man I respect, Voddie Baucham Jr. It's called What He Must Be: …If He Wants to Marry My Daughter. Whether or not God calls you and this woman together for the long haul, Voddie offers excellent counsel for you as you prepare for the future God has for you.