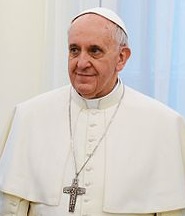 Here is what Pope Frances said…
"Who am I to judge a gay person of goodwill who seeks the Lord? You can't marginalize these people." On the subject of gay clergymen Pope Frances said they should be forgiven and their sins forgotten. Pope Frances also said, "The Catechism of the Catholic Church explains this very well. It says they should not be marginalised because of this but that they must be integrated into society."
America's top bishop responds…
"This is no way could this be interpreted as a change in church doctrine or the church's faith and morals. It is a change in tone. It's been a pretty clear teaching of the church based on the words of Jesus that we can't judge people; we can judge actions. Homosexual people deserve love respect and dignity, while homosexual acts are immoral" (more)
Cardinal Timothy Dolan,
president Conference of Catholic Bishops USA
Gay-Catholic spokesman responds…
"This doesn't break new ground on the church's position on homosexual acts, but what we've seen from this pope is a real shift in emphasis. For so long the rhetoric coming out of the Vatican — about gay and lesbian people and same sex marriage — has been horrifically damaging. For the first time we're seeing a pope who says: 'Who am I to judge,'" (more)
Duddy-Burke, Dignity USA,
Best Twitter comment…

"Loving Pope Francis. Progressive and knows how to throw a great beach party"
Washington Post guest Tweet
Catholic leaders claims media bias….
"This is the worst coverage of a religious story I have seen to date.
Let's begin with the fact that the pope has always been "OK" with homosexuals. In fact, by the demands of his own religion he is required to be much more than just "OK." The Christian faith teaches that every person is endowed by God with an inviolable dignity and therefore deserves our unconditional respect and love.

A section of an Associated Press report also got the story very wrong. Summarizing the pope's comments on homosexuals in the priesthood, the AP reported: "Francis was much more conciliatory [than Pope Benedict], saying gay clergymen should be forgiven and their sins forgotten."

Pope Francis didn't say that, and the report is wrong on so many levels.

First of all, it suggests that being gay itself, is a sin. What Pope Francis really said, in response to a reporter's question about homosexual priests who are living a celibate life was this: "If someone is gay and he searches for the Lord and has good will, who am I to judge?"

Pope Francis simply and compassionately reiterated Biblical teaching. The Bible and the Catholic Church have never taught that it is a "sin" to be homosexual. They teach it is a sin to have homosexual sex because it goes against the laws of God's nature, specifically his plan for human sexuality.

When Pope Francis says "who am I to judge" he is saying—and I think we need to hear more of this from religious leaders—that active homosexuals deserve the same kindness, love, and mercy that all of us sinners would hope to receive from God and from others…I would hope next time Pope Francis offers to meet with the press, they would take to heart his message about fearless service and report to their readers what he actually said, rather than what they wish they had heard. (more)

Father Jonathan Morris
program director of "The Catholic Channel"