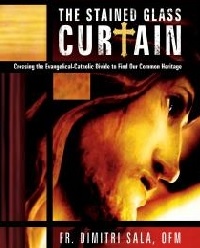 Creation House Publishers' Spanish publishing division, Casa Creacion, has announced that the book "The Stained Glass Curtain: Crossing the Evangelical-Catholic Divide to Find our Common Heritage" by Father Dimitri Sala will be translated into Spanish for distribution this fall. "La Cortina de Vitrales: Cuando Penetramos la División entre Evangélicos y Católicos para Encontrar Nuestro Patrimonio Común" will be available November 2013 in the U.S. and January 2014 in international markets. Father Sala, a Franciscan Friar-Priest involved full-time in evangelical preaching and apostolic ministry, believes this book fits perfectly with the message of the new pope.
"Pope Francis was greatly involved with and respected by Evangelicals in Argentina," says Sala, "and there is a sense that Argentina is on the point of a new springtime for evangelism among Catholics who haven't personally responded to the Good News and for unity among Christians. This could be an effectual door for all of Latin America."
"The Stained Glass Curtain" was written by Sala to find common ground between Evangelicals and Catholics. Seeking to end generations of mutual suspicion between groups of Christians, Father Sala reaffirms foundational biblical truths and attributes that are embraced by Christians of all stripes.
"We Catholics need to practice a grassroots principle of unity outlined by a group like Promise Keepers: focus on reconciling relationships, then the theology will find its proper place," says Sala, who has served as a local steering committee member for Promise Keepers. "That's what this book is all about –dispelling real prejudice and updating misinformation about each other."
Presently based in Chicago, Fr. Sala has been a speaker in diocesan, regional, national, and international conferences, and has made several appearances on Christian television and radio. He has been involved in international efforts of reconciliation between Evangelical Protestants and Catholics, and is part of the ecumenical ministry of Harvest Evangelism, where he is a faculty member for the Transform Our World Conferences.
"Our views of the Catholic Church today — affirmative, negative or anywhere in between — act as a thermometer-reading on the Body's fever of disunity," says Father Sala. "I pray that diagnosis will urge us to move decisively back into the oneness which we have lacked for so long…a oneness which Jesus unapologetically declared is the bigger picture necessary for His followers to impact the world."
For more information visit www.TheStainedGlassCurtain.com